Random selection from around 420 Facts
Click to filter results
Censorship
UK pop paper
Melody Maker
reports that the British Musicians Union has banned its members from performing in South Africa because of that country's apartheid policy. [censorship]
Luther Campbell, manager/promoter and member of controversial 90s rap recording stars
2 Live Crew
is born in Miami, Florida, USA.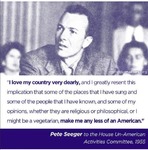 Folk musician
Pete Seeger
, under indictment for contempt of Congress for refusing to answer questions of the House Un-American Activities Committee in 1955, states to a press conference in New York City, USA, that he will continue to refuse "to answer questions as to my associations, my philosophy or religious beliefs, or my political beliefs, or how I voted in any election, or any of these private affairs."
Read More
Wholesome British balladeer
Craig Douglas
is in trouble because his cover version of
Gene McDaniels
' American hit
100 Pounds Of Clay
is banned by the BBC for blasphemy. The lyric suggests that God might have created woman out of building materials. Douglas will re-record it with new words.
The Twist
, obsessed and infuriated, have demolished the buildings where they were gathered, have broken windows and chairs and, out in the streets, have staged riots."
Russian newspaper Komsomolskaia Pravda reports that, "Dozens of cases are known in which possessed dancers of rock'n'roll and
Having been banned by many radio and TV stations in the USA,
Lena Horne
's racial integration plea, Now, is released in the UK. The BBC and ITV both decide not to ban it.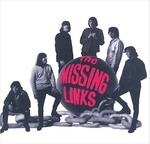 The Missing Links
play at Sydney Univerity Theatre, Sydney, Australia, in a benefit concert to support the
OZ underground magazine
team which is facing jail sentences on charges of obscenity.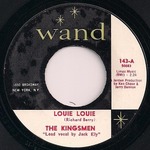 FBI agents pay a visit to
Wand Records
in New York City, USA during their ongoing investigations into allegations of obscenity in the lyrics to the song Louie Louie by
The Kingsmen
.
A newly-recorded live version of Fulsom Prison Blues by
Johnny Cash
enters the
Billboard
Hot 100 Singles chart, but sales will fall away sharply two weeks later, after the assassination of Senator Robert F. Kennedy causes radio stations to drop the single from playlists because of the line, "I shot a man in Reno, just to watch him die."
Patrons of The Stonewall Inn, a gay bar in
Greenwich Village
, New York City, USA, fight back when police raid the bar, sparking riots which last through the weekend. The 1978 song
Long Hot Summer
by The
Tom Robinson
Band will be inspired by the Stonewall Riot.
In the wake of a sensational punk tv special shown earlier in the month, the city of Glasgow in Scotland bans all punk gigs, hoping to avoid violence.
The
Rolling Stones
issue a statement to the press, apologising for the offensive and discriminatory lyrics of their song
Some Girls
. Many observers perceive the apology as a cynical attempt to crawl out of responsibility for lyrics that were blatantly mysogynistic and racist.
Read More
UK tv show
Top Of The Pops
features live appearances by Squeeze,
Kate Bush
, The Real Thing,
The Buzzcocks
, Dennis Brown and Sham 69.
Squeeze
are obliged to change the sexually-suggestive lyrics of their hit Cool For Cats which are considered too risque for early evening tv broadcast.
Read More
Concerned about the spread of domestic cassette recordings, the British Phonographic Industry (BPI) launches a campaign under the slogan Home Taping Is Killing Music, with support from
In China, the People's Music Press publishes a guide entitled, How To Distinguish Decadent Music, singling out
Elvis Presley
as an example of the 'expression of confused, blind, excitement' and directing right-thinking Chinese folks towards such wholesome home-grown songs as The Nightsoil Collectors Are Descending The Mountain.
The Washington Wives' music censorship pressure group
Parents Music Resource Center
[PMRC] petitions the music business to introduce a rating system to warn buyers about violent or sexually explicit lyrics. [censorship]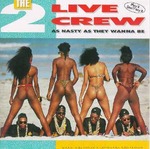 District Attorney Joe Baugh of Tennessee, USA, rules that rap group N.W.A.'s Straight Outta Compton and
2 Live Crew
's As Nasty as They Wanna Be both violate the obscenity laws applicable in that state.
Read More
Tommy Hammond, co-owner of Taking Home The Hits music store in Alexander City, Alabama, USA, is fined $500 for selling pornography. The merchandise in question is
2 Live Crew
's albums Move Something and Live Is What We Are, which are defined as pornographic by the state's obscenity statutes.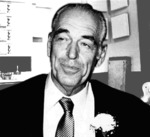 Wally Heider
, owner of a legendary Californian recording studio, dies of lung cancer aged 66, in Santa Clarita, California, USA.
Ten thousand dance music fans attend a Freedom To Party demonstration in Trafalgar Square, London, UK, to protest against new legislation aimed at banning raves.
BBC Radio 1 in the UK publicly apologises for having recently played the album version of
Creep
by
Radiohead
. The album version includes expletives which are not present on the single.
Pop Will Eat Itself are banned from Irish TV's Late Late Show after abusing former
Sex Pistols
' manager Malcolm McLaren in the hospitality suite and trashing a drum kit live on air.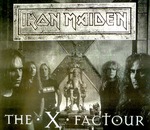 On their
The X Factour Tour
,
Iron Maiden
play in South Africa for the first time with a show at The Standard Bank Arena, Johannesburg, South Africa.
Read More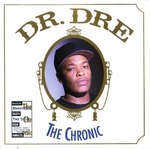 Claiming that his right to free speech has been trampled, rapper
Dr. Dre
begins $25m worth of legal actions against the City Of Detroit, Michigan, USA, two police officers and the town mayor's secretary. Dre's action relates to a ban on him showing an eight-minute video during his concert at the city's Joe Louis Arena.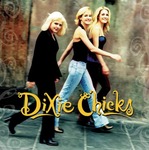 Merle Haggard
issues a press release in support of the
Dixie Chicks
, stating, "I don't even know the
Dixie Chicks
, but I find it an insult for all the men and women who fought and died in past wars when almost the majority of America jumped down their throats for voicing an opinion. It was like a verbal witch-hunt and lynching." (Natalie Maines of the
Dixie Chicks
had made critical comments about United States President George W. Bush and the current situation in Iraq.)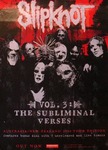 The Greek Orthodox Church urges organisers of a
Slipknot
concert at The Lycabettus Theatre, Athens, Greece, Europe, to
cancel the show
, accusing the group of promoting Satanism.

It is reported that the music retail chain HMV Canada has removed all
Alanis Morissette
product from its shelves because the singer-songwriter has lately struck an
exclusive deal allowing the Starbucks Coffee chain to sell her new CD
Jagged Little Pill Acoustic
.
Rihanna's controversial concert
at Stadium Putra in Bukit Jalil, Kuala Lumpur, Malaysia, goes ahead despite widespread calls for the concert to be cancelled on the grounds that
Rihanna
's sexy stage act is an insult to Malaysian values.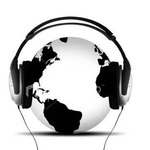 It is reported that
more than twenty unlicensed music download sites in China, Asia, have been shut down
, as the Chinese government ramps up its anti-piracy activities.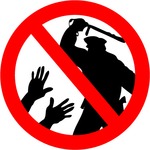 Baton-wielding police break up the 'Street Punk' charity concert at the Cultural Park, Banda Aceh, Aceh, Indonesia, Asia.
Sixty-four punk rock fans are arrested
and subsequently taken to the Aceh State Police School for 're-education.'

22 year-old
Matthew de Grood stabs five university students to death
at a house party in Calgary, Canada. It is later revealed that he posted lyrics by
Megadeth
on his Facebook page shortly before carrying out his killing spree. The lyrics in question are "Dread and the fugitive mind - the world needs a hero".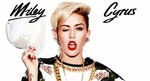 A Dominican Republic government commission with responsibility for public performances announces that it is
banning a September 13 concert
by
Miley Cyrus
because the former Disney cutie-pie often "undertakes acts that go against morals and customs, which are punishable by Dominican law."