Random selection from around 470 Facts
Click to filter results
Censorship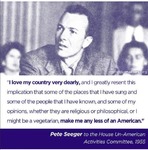 Folk musician
Pete Seeger
, under indictment for contempt of Congress for refusing to answer questions of the House Un-American Activities Committee in 1955, states to a press conference in New York City, USA, that he will continue to refuse "to answer questions as to my associations, my philosophy or religious beliefs, or my political beliefs, or how I voted in any election, or any of these private affairs."
Read More
It is reported that the Irish Republic's only radio station, Radio Eireann, has banned the song Michael, in versions by The Highwaymen and Lonnie Donegan. Reasons for the band are not available at the time of the announcement.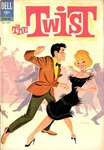 Teen dance craze The Twist is banned by Bishop Burke of the Catholic Diocese of Buffalo, New York, USA, who decrees that it must not be danced, sung about or listened to at any Catholic school, parish or youth organisation.
Read More
The Jehovah's Witness magazine Watchtower runs a feature about the morality of dancing
The Twist
, concluding that, "even if a Christian can participate in a dance with a good conscience before God, because of having no wrong motive, that is not enough. He must consider the effect upon the onlooker."
Rolling Stones
give in to pressure from
Decca Records
to change the sleeve for their seventh album,
Beggars Banquet
. What had been a toilet wall scrawled with graffiti becomes a tasteful cream sleeve bearing almost no imagery at all. @RollingStones
The
FBI boss J. Edgar Hoover writes to Charles H.Crutchfield, President of the Jefferson Standard Broadcasting Company, North Carolina, USA, supporting his appeal for censorship of rock albums, specifically mentioning recordings by
The Doors
and
The Fugs
.
A mother, wearing a traditional white headscarf, goes to the Plaza de Mayo in Buenos Aires, Argentina, South America, to hand in a letter to the country's military leader, Videla, asking about her '
disappeared
' son. She is sent away but, moments later, she links arms with another woman and begins walking in silence around the square. Eventually, a small group of women are walking round the square in pairs. At the time, a government order banned assemblies of more than three people so, by walking in pairs, they could not be broken up by police. Every Thursday since that day the Mothers of The Disappeared have walked around Plaza de Mayo carrying photographs of their lost loved ones. The white headscarf, worn on that April day 35 years ago, became the symbol of the unity of the group. The songs
They Dance Alone
by
Sting
and
Mothers Of The Disappeared
by
U2
are about this protest.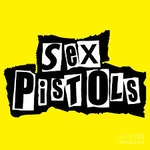 The manager of the Virgin record store in Nottingham, England, UK, is arrested for displaying the LP Never Mind The Bollocks by The
Sex Pistols
.
UK tv show
Top Of The Pops
features live appearances by Squeeze,
Kate Bush
, The Real Thing,
The Buzzcocks
, Dennis Brown and Sham 69.
Squeeze
are obliged to change the sexually-suggestive lyrics of their hit Cool For Cats which are considered too risque for early evening tv broadcast.
Read More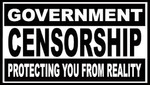 The Ayatollah Khomeini tells a mass gathering of his subjects in Teheran, Iran, Asia, that, "Music is no different from opium. Music affects the human mind in a way that makes people think of nothing but music and sensual matters ... Music is a treason to our country, a treason to our youth, and we should cut out all this music and replace it with something instructive."
When black children in South Africa adopt
Another Brick In The Wall
by
Pink Floyd
as their anthem, censorship rears its ugly head - the single is banned by the apartheid regime.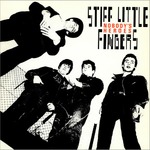 The Lyceum, Sheffield, England, UK, Europe, bans rock gigs, obliging Irish punk combo
Stiff Little Fingers
to cancel a show there.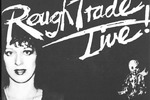 At the 1982 Juno Awards in Toronto, Ontario, Canada, controversial bondage-oriented band
Rough Trade
is asked not to sing particular lyrics from their song High School Confidential which "depicted putatively inappropriate lesbian lust". The band's singer Carole Pope performs the song anyway, including the controversial line, "She makes me cream my jeans / When she's coming my way."
UK music paper
Melody Maker
reveals that the lyric of
The Smiths
' song Suffer Little Children, which refers to the grisly Moors Murders case, has resulted in a ban on their recordings in some UK shops.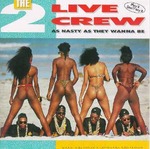 2 Live Crew
, Seka, Poison Clan and Tds Mob play at
The Channel, Boston
, Massachusetts, USA.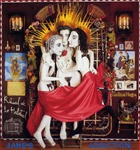 Jane's Addiction
release their third album,
Ritual de lo Habitual
, in the USA. Numerous record stores refuse to stock the LP because the cover art depicts male and female nudes in an intimate setting. As a result, a second cover is created, using only black typography against a white background.
Read More
BBC Radio 1 in the UK publicly apologises for having recently played the album version of
Creep
by
Radiohead
. The album version includes expletives which are not present on the single.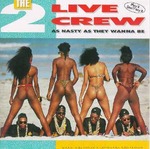 The United States Supreme Court decides in favour of
2 Live Crew
in
the case of Campbell vs Acuff-Rose Music
. The lawsuit was based on
2 Live Crew
's use of parts of the
Roy Orbison
song Oh Pretty Woman in their track Pretty Woman. The decision establishes that a commercial parody can qualify as fair use, and is not an infringement of copyright.
Pop Will Eat Itself are banned from Irish TV's Late Late Show after abusing former
Sex Pistols
' manager Malcolm McLaren in the hospitality suite and trashing a drum kit live on air.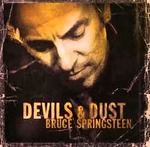 It is announced that Starbucks will not be selling the new
Bruce Springsteen
album, Devils And Dust, which is the first Springsteen album to be stickered with an advisory label because of erotically-charged lyrics.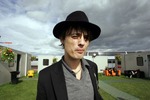 The Guardian reports that
Pete Doherty
's band
Babyshambles
has been
banned from headlining
the
Moonfest Festival
in Westbury, Wiltshire, England, UK, Europe, because police are concerned that he might "gee up" the crowd into a dangerous frenzy.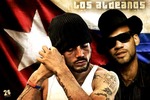 Hip-hop/rap duo
Los Aldeanos
perform to a packed crowd in the town of Candelaria, Cuba, Caribbean. Band-member Aldo Rodriguez spends the night in jail for "disturbing the public."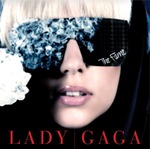 15-year-old
student Cole Goforth is sent home
from Greenbrier High School, White House, Tennessee, USA, for wearing a t-shirt emblazoned with the
Lady Gaga
inspired slogan, 'I Heart Lady Gay Gay'.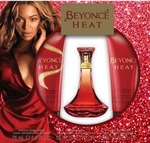 The Advertising Standards Authority
in the UK bans daytime screenings of a tv commercial for
Beyonce
's perfume,
Heat
, after receiving fourteen viewer complaints.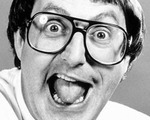 It is revealed that BBC director general Mark Thompson has
apologised to music business mogul and convicted paedophile Jonathan King
for editing his perfomance of the No9 hit single It Only Takes A Minute out of a repeat broadcast of the tv show
Top Of The Pops
on the grounds that it might offend viewers.
Jonathan King
had objected on the grounds that the edit was a Stalinist revision of history.

22 year-old
Matthew de Grood stabs five university students to death
at a house party in Calgary, Canada. It is later revealed that he posted lyrics by
Megadeth
on his Facebook page shortly before carrying out his killing spree. The lyrics in question are "Dread and the fugitive mind - the world needs a hero".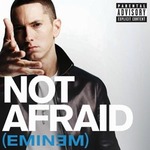 It is revealed that the reason why
Eminem
was
banned from performing at the 2014 British Summer Time Festival in Hyde Park
, London, England, UK, was that his lyrics were deemed "offensive" and "unsuitable" by Royal Parks, the organisation responsible for the park.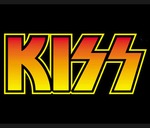 Australian radio station
Triple M bans the music of Kiss leader Gene Simmons
in the wake of his irresponsible comments about depression in an interview with music website Songfacts.com.