Showing all 2 Facts found
Click to filter results
On their
PopMart tour
, when
U2
play at Valle Hoven, Oslo, Norway, Europe, their showpiece special effect, a giant mechanical Lemon, fails to open, trapping the band inside inside until the Lemon is dragged off the stage and the somewhat embarassed band set free.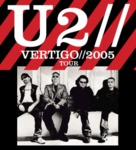 Just before the encore of
U2
's show at Vallehovin, Oslo, Norway, Europe, the band's four members find themselves trapped, Spinal Tap-style, inside a 40ft-high metallic lemon-shaped 'pod' high above the stage. The device was supposed to open and let the group emerge but on this night, the mechanism failed.