Fact #80301
When:
Short story: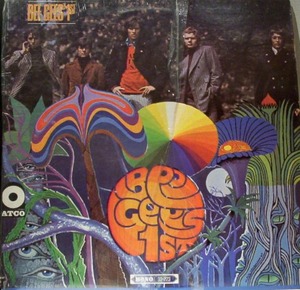 The
Bee Gees
release their third album, curiously titled
The Bee Gees' 1st
, in the UK on
Polydor Records
. [N.B. Their first two albums were released only in Australia, but '1st' was their first British album.]
Full article:
THE BEE GEES – 1st

On January 3, 1967, failed Australian pop trio The Bee Gees set sail for England, aboard the S.S.Fairsky. By the middle of that summer, they were the hottest new group in London, the hippest music city in the world.

The Gibb family, including musically-inclined sons Barry, Robin and Maurice, had emigrated from the UK to Australia in 1958. Over the next few years, the brothers Gibb released a string of flop singles down under. By the start of 1967, with their prospects looking bleak, they decided to return to Blighty, where the Swinging 60s were in full bloom. Aussie bands including The Easybeats and The Seekers had achieved considerable success by re-locating to London, so the Gibb boys considered it worth a shot.

By a happy coincidence, while the SS Fairsky was on the high seas, The Bee Gees' final Australian single, Spicks And Specks, became a major hit, topping the charts in Melbourne and elsewhere. Suddenly, they were stars.

"We actually wrote most of the songs for our first British album on the journey," Maurice told me in an interview for Mojo magazine. "While we were on the boat, Brian Epstein (manager of The Beatles) and Robert Stigwood (manager of Cream) had dinner in London and listened to our tapes. When we reached England, Stigwood was keen to work with us."

Indeed, just days after they docked in Southampton, Stigwood invited them to his London office and signed them to Polydor Records.

Barry Gibb was slightly bemused to find him, "very Edwardian in appearance, sideburns like Brian Epstein had, the sort of velvet lapel jacket, Oscar Wilde-ish with greyer hair."

On March 7, Stigwood booked them into Polydor's newly-established demo studio at 19 Stratford Place, built and run by sound engineer Carlos Olms, to start work on their first British album. It's worth noting that they had already released two albums in Australia, so the title Bee Gees' 1st is something of a misnomer.

"We started recording a backing track at about seven o'clock, but the whole concept was in the early stages," recalled Carlos Olms. "They had not even the words together."

Then the power went down and the lights went off. "We walked out into the hall," said Maurice Gibb later, "and there was this echo that came from the ground floor right up to where we were – I think we were on the fourth floor. There was this whole atmosphere, I guess, of being in a mine-hole."

Returning to the studio, they set to work again. "We were sitting … in the dark … and we got the first line, 'In the event of something happening to me'," explains Barry Gibb. "And we thought, 'Oh, that's a good line.'"

Manager Stigwood, meanwhile, was otherwise occupied. "I was busily fussing around trying to get the power back on and, when it did, they said, 'Rob, we've just knocked up something. What do you think of this?' And it was New York Mining Disaster 1941. I fell in love with it immediately."

Although they chose not to reveal it at the time, the song was inspired by the tragedy of the Aberfan Mining Disaster just months earlier. "Our lyric was entirely fictitious but that was our real inspiration," Robin Gibb now acknowledges. "We were very affected by the news of that terrible disaster, but we didn't want to say that directly at the time, out of respect for the dead and their families."

At the same session, they mapped out three more tracks, Turn Of The Century, I Can't See Nobody and Red Chair Fade Away, all of which would appear on the album. After two more days at Polydor, they moved to the better-equipped IBC Studios, a five minute walk away in Portland Place, where the album would be completed.

The Gibbs, of course, supplied vocals, with Barry also playing rhythm guitar, Robin adding some organ parts and the multi-talented Maurice playing, bass, piano, mellotron, harpsichord and more. Drummer Colin Peterson and guitarist Vince Melouney did not officially join The Bee Gees until July 4, but in fact they played on most of the sessions.

"I was friends with the Gibbs in Australia and had played guitar on one of their early compositions," explained Melouney some years later. He had moved to England before The Bee Gees, so it was hardly surprising when, "Maurice asked me if I would like to play guitar on one of their songs, and that night we recorded New York Mining Disaster. After that, the Gibbs asked me to join their band. Colin Peterson had joined one week before."

The band would usually work late into the night, often aided by amphetamines, a habit they had acquired during their heavy live schedules in Australia, and Robin Gibb told me, "Robert lived at De Walden Court, just off Portland Place, and he would walk to the studio at four in the morning to hear our stuff." This seems to suggest that, although listed as co-producer, Stigwood was not always in the studio.

According to IBC studio technician, Damon Lyon-Shaw, the other co-producer, Ossie Byrne, "didn't have much talent as a producer, but … he had this talent of keeping people together and making them productive."

Whoever was at the helm, Mining Disaster was completed in IBC on the 16th, with the addition of jew's harp, a novel 'snap' percussion device and a string quartet. The finished product, Maurice Gibb subsequently admitted, was, 'a total rip-off of The Beatles. We were so influenced by them."

In an interview not long before his untimely death, Maurice also told me, "In Australia we'd have died to get a string player on a session, but Robert had us working with string players from the London Symphony Orchestra on Can't See Nobody and To Love Somebody. We couldn't read or write music, so we'd sing the parts we wanted to Bill Shepherd (musical arranger) and he'd turn that into a string part or French horn or whatever we wanted."

Bee Gees 1st is awash with memorable songs, from the psych-pop of Red Chair Fade Away, to the baroque stylings of Turn Of The Century and the social satire of Craise Finton Kirk Royal Academy of Arts, but the song that has gone on to become an undisputed classic is the soulful To Love Somebody.

At their recording studio in Miami in 2001, Barry Gibb told me, "To Love Somebody was for Robert (Robert Stigwood). I say that unabashedly. He asked me to write a song for him, personally. He meant a great deal to me at that point. I don't think it was a gay or a homosexual affection but a tremendous admiration for this man's abilities and gifts."

To Love Somebody had been written at the Waldorf Astoria Hotel in New York during the band's first visit to the USA, with the intention that Otis Redding should sing it. "I was inspired because I had just met him," explained Barry, "The rest of the evening I was alone and concocted most of it in that time. Of course, he died about three months later in a plane crash, so he never recorded it."

The song was completed at IBC with additional input from Robin and Maurice and has gone on to become a standard, covered by everyone from Nina Simone to Leonard Cohen.

The whole album was recorded in the space of a month, with a budget of £25,000, a considerable sum in those times. "We were launched as 'The most significant musical talent of 1967'", remembers Barry. "That was Robert's slogan and it was a good thing. First of all, it was a very positive statement, whether it was true or not, and it attracted a lot of attention."

New York Mining Disaster was the first single, released on 14 April, 1967. By sending out unmarked demos of the first single, New York Mining Disaster 1941, Stigwood cannily exploited The Bee Gees stylistic resemblance to The Beatles to allow American radio deejays to imagine that they were hearing new Beatles tracks. It peaked at No12 in the UK and No14 in the USA.

The resulting airplay and industry gossip was enough to get The Bee Gees off the ground on both sides of the Atlantic, making them one of the biggest-selling bands of the 60s.

They followed through in June with To Love Somebody, which reached No17 in the USA but only No41 in the UK. When the album appeared on July 14, it peaked at No7 on Billboard's Pop Albums chart in the USA and at No8 in the UK.

Another fan favourite, the poignant Robin Gibb composition Holiday, was released as a single in the USA where it became a Top 20 hit, but it was never released in the UK.

Although arguably eclipsed by their 70s achievements, tracks from this album have since been covered by Nina Simone, Chumbawamba, The Flaming Lips, The Levellers, Martyn Carthy, David Essex, Simply Red, Rod Stewart, Dusty Springfield, Veruca Salt and The Cyrkle, an enduring testament to the quality of the material in its grooves.

What no-one suspected back in 1967, of course, was that The Bee Gees would go on to exploit the 70s disco boom and, ultimately, create the second biggest hit song catalogue in the world, with only The Beatles ahead of them.

PRODUCTION NOTES


Work on The Bee Gees 1st started on March 7, 1967, in Polydor's demo studio at 19 Stratford Place, London, which had been built in the first two months of the year by sound engineer Carlos Olms, using second hand and obsolete valve-based gear shipped over to London from Polydor's parent company, DGG in Germany.

Olms remembers the trio writing New York Mining Disaster 1941, "in the quietness of our old staircase – there was no-one else in the building – in this atmosphere with the old goods lift and the folding zig-zag doors, sitting on the cold stone steps."

However, by the 13th, they had relocated to IBC Studios at 35 Portland Place, and immediately commenced working on Cucumber Castle, which made it to the album, and I've Got To Learn, which didn't.

According to Brian Carroll, an IBC staffer at the time, studio A offered 8 track, 4 track, 3 track, 2 track and mono recording facilities, with a state of the art 24 channel mixer plus "all the limiter, equalisation and echo facilities you could ask for".

IBC's Studio A was big enough to accommodate a forty piece orchestra, and was equipped with two pianos, a Steinway Grand and an upright. A Mellotron (tape-based instrument simulator) was also on hand and was utilised by Maurice Gibb on Every Christian Lion Hearted Man Will Show You. 

Brian Carroll's recollection of those sessions reveals much about how British recording studios operated in those days. "My memory of that time is the three brothers sitting in the Tea Lobby waiting for Ernie the caretaker to bring up the big pot of tea that was a daily ritual. In those days it was a typical English thing to stop for tea at 11 o clock in the morning and 4 o clock in the afternoon. No mater what location you were working in or whoever you were working with most days everything stopped when Ernie rang all the locations with the words "Tea's Up!"


Tweet this Fact