Fact #78963
When:
Short story: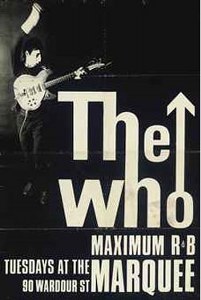 The Who play at
The Marquee Club
, London, UK, supported by The Sneakers.
Full article:
Pete Townshend (guitarist, The Who) : When I first started I could make a guitar feedback on any note for any length of time and I had such control I could do anything I liked. At
The Marquee
when we first started I used to have a guitar going on a chord and stop certain strings with my feet while I was playing something else on another guitar. In the end I was standing with one foot on a guitar which was feeding back and playing something else with one hand while turning a knob up here and I thought: "What am I doing? Why bother?" The thing is to create the same dramatic effect musically.
(Source : interview with Miles, International Times, Feb 13, 1967)
Tweet this Fact