Fact #52411
When:
Short story: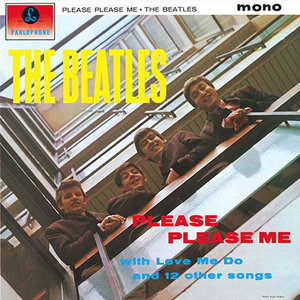 The Beatles
record ten tracks (including
Misery
and
A Taste Of Honey
) for their debut album,
Please Please Me
, in EMI's
Abbey Road
Studios, London, England, UK, Europe.
Full article:
Paul McCartney : This album was one of the main ambitions in our lives. We felt it would be a showcase for the group and it was tremendously important for us that it sounded bang on the button. As it happened, we were pleased. If not, sore throats or no sore throats, we'd have done it all over again. That was the mood we were in. It was break or bust for us.
George Martin (record producer) : There wasn't a lot of money at Parlophone. I was working to an annual budget of £55,000. I could spend it however I wished but I had to produce a certain number of records per year. I wanted to get The Beatles first album out quickly and we recorded it in a day. We started at ten in the morning and finished about eleven at night.
Geoff Emerick (Abbey Road recording assistant) : Their first album was made in one day. But the normal protocol - because we were working for a corporation, EMI - was to record three songs in the morning, three in the afternoon, and three in the evening. But of course, that was a great learning experience for me. It was capturing the moment in time. When I started as an assistant engineer, we were working on classical sessions as well. There were a few sessions I worked on with Maria Callas. But to go into the studio and just go into straight stereo - and it wasn't even multitrack then - and you're capturing that whole choir and the orchestra and the soloist, it's quite a moving experience. I've been brought up capturing that emotion from the studio floor, not from the control room per se.
(Source : http://www.taxi.com/transmitter/1312/geoff-emerick-interview.html)
George Martin : The obvious thing to do was to record all the stuff they did in their live act. I'd already seen them at the Cavern, so I knew their repertoire. I just selected all the stuff I knew they could do at the drop of a hat. I got them down to the studio and said, 'Right, we're going to record Roll Over Beethoven, we're going to record Money, we're going to record Chains, and so on. It was rather like a performance, actually.
John Lennon : We were just writing songs à la Everly Brothers, à la
Buddy Holly
, pop songs with no more thought to them than that - to create a sound. And the words were almost irrelevant.
Norman Smith (engineer) : [It was] nearly always Paul who was the MD, the musical director, as early as this. Obviously John would have quite a lot to say, but overall it was always Paul who was the guv'nor. Which is fair, because he was the natural musician, and even at this stage, the natural producer. On this session he was trying to figure out everything we were doing with the controls.
George Martin : John and Paul must have heard Boys on some American album, like they heard most of the early songs. They would play me a record of an American artist, generally a coloured one, and say, 'This is great. I wish we would sing like that.'
Norman Smith : I kept the sound relatively dry. I hated all that echo that everyone was using back then. And I placed the singers' microphones right there with the rest of the band, although singers were usually hidden away in a separate recording booth. I thought that was a bad idea, because you lost the live feel of the session.
Norman Smith : When we recorded their first album, there was something wrong with John's voice. – he had a big jar of throat tablets standing next to him. But he made it through well enough. We did the whole LP in one day, that was normal then.
At the end of the afternoon we took a break, and then we decided to record
Twist And Shout
as the final number. We got it in one take. We had to get it in one take!
Paul McCartney : We did
Twist And Shout
last because, if we'd done it first, we couldn't have done any of the others. John's voice would have gone. One day for an album is pretty fast.
George Martin : John absolutely screamed it. God alone knows what he did to his larynx each time he performed it, because he made a sound rather like tearing flesh. That had to be right on the first take, because I knew perfectly well that if we had to do it a second time it would never be as good.
Norman Smith : John's voice was pretty shot. They had a whole tin of throat lozenges plus cartons of cigarettes on the piano. So he swallowed two or three of the lozenges before we attacked it.
Geoff Emerick (Abbey Road recording assistant) : It was a George Harrison guitar line on Misery, and it needed it a different sound to make it more interesting. I realized at this point that what George [Martin] did is he played the tape at half speed and put the little piano part, which was the same as the guitar part, underneath to play along with the guitar. When you play it back at normal speed, the harmonics are different - and it has that special sound. So from that moment on, as far as I was concerned, I knew that you could create things from doing things like that. That's when the seed was planted for me, straight from George.
(Source : http://pitchfork.com/thepitch/1056-beatles-engineer-geoff-emerick-on-how-george-martin-changed-the-game/)
Paul McCartney : A Taste Of Honey was one of my big numbers in Hamburg - a bit of a ballad. I t was different but it used to get requested a lot. We sang close harmonies on the little Echo mikes, and we made a fairly good job of it. It used to sound pretty good, actually.
(Source : Anthology tv series)
Tweet this Fact