Fact #167043
When:
Short story: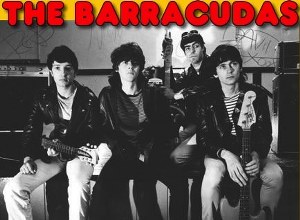 The
Barracudas
play at The Hope And Anchor, Islington, London, England, UK, Europe.
Full article:
Johnny Black (reviewer, New Music News) : I used to have a theory about The Barracudas.

I used to think that their best gigs were their worst and vice versa. Tonight they proved me wrong. Defying the laws of probability they managed to sing in tune (mostly), play all the notes in the right places (like real groups do), and still retain the joyous abandon that sets them apart from anything else evolution has ever thrown up.

Heedless of which way the winds of fashion blow, this reckless quartet seems at first acquaintance to have much in common with the appendix or the duck-billed platypus. They don't need to exist. London needs surfing punks like Suggsy needs a centre parting and yet some demented will to survive keeps them plugging away.

As this set begins, vocalist Jeremy Gluck demonstrates his specially modified vertical leap. First time I saw them at The Hope he hit the roof. Now he's perfected an improbable-looking neck contortion which keeps his head out of danger while allowing the leap to continue as before. Ingenious.

Guitarist Robin Wills demonstrates his Spartan talents by finding two notes more than adequate for a fine solo during Surfers Are Back, after which they dispose rapidly of their current single, Summer Fun, a song which sounds immeasurably better live than on record. The old favourite KGB even sounds good tonight. For the first time I suspect it of having a melody.

Sweaty bodies begin to heave themselves into the air all around me as three minute crystallizations of unadulterated pop hysteria blast into the unsuspecting crowd in rapid succession. Suddenly, they're leaving the stage amid clapping, cheering and whistling. The encores turn into a nostalgic surfing party and everybody goes home satisfied and grinning.

The Barracudas are a glorious celebration of chaos. They're also a lot of fun.
Tweet this Fact