Fact #157413
When:
Short story: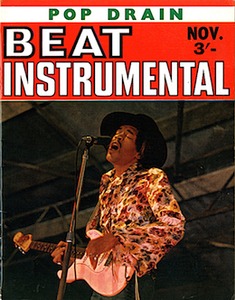 In New York City, USA,
Jimi Hendrix
is interviewed by the East Village Other, then jams at The Scene Club with The
Electric Flag
,
Soft Machine
and
The Tremeloes
.
Full article:
Jerry Velez (percussionist) : I first met Jimi at a party in 1968 and then he heard me play a couple of times at The Scene. He would come by with his entourage and I would sit there with my conga drums, waiting for my turn to be called up. Jimi was sensitive and insecure to a certain degree offstage. He had this thing with
Mike Jeffery
that was very intense - like a love-hate relationship. Jimi was trying to get out of his contract.
Chas Chandler (co-manager, JHE) : He (co-manager
Mike Jeffery
) got into this idea that he and Jimi were acid buddies. You'd try and talk to them and it was like talking to an alien. I couldn't bear to stay around.
(Source : not known)
Tweet this Fact