Fact #15069
When:
Short story: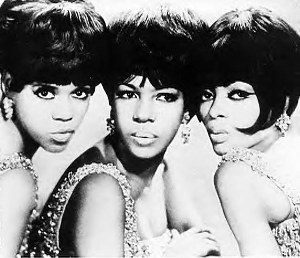 The Supremes
are signed to
Berry Gordy
Enterprises and
Tamla Records
in Detroit, Michigan, USA.
Full article:
Mary Wilson [The Supremes] : Diane (
Diana Ross
) knew Smokey Robinson, and he got us an audition. We wore pleated skirts and tennis shoes and
Berry Gordy
told us to come back when we finished high school. We used to go to the Grand Boulevard office every day and pretty soon started doing back-up vocals and handclaps for Marvin Gaye and Mary Wells.
In January 1961, Mr Gordy signed us and told us to change our name. Florence came up with The Supremes. We had about ten local hits with Smokey and got nicknamed the no-hit Supremes. It wasn't until
Berry Gordy
put us with the songwriting team of
Holland, Dozier and Holland
that it started happening in 1964.
Brian Holland (
Holland, Dozier and Holland
) :
Berry Gordy
always said, "listen to the radio." It's important to get a pulse on what's going on out there. Listen to different sounds for production ideas. Be inspired by great songs and great production. Source : http://www.songwriteruniverse.com/hdh.htm
Diana Ross
: Berry taught me a lot. It was like leaving home. It wasn't like we were these little puppets and he told us what to do. We were young, but the style was created by us, not by
Berry Gordy
, not by the company.
(Source : not known)
Tweet this Fact