Fact #143666
When:
Short story: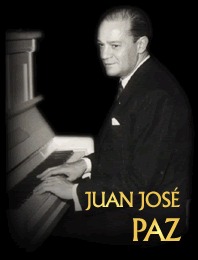 Tango pianist and composer
Juan Jose Paz
is invited by Pampa Records in Buenos Aires, Argentina, South America, to lead an orchestra to accompany the singer Alberto Podestá for the recording of the tangos Alma de bohemio and En el olvido.
Full article:
Juan Jose Paz was a famed tango pianist, band leader, arranger and composer. Born Juan José Abbondanza, he composed the tangos A mi no me Hablen de Tango, Otro Regreso, Invitación al Tango, Calesita de mi Barrio, and many others.
Tweet this Fact