Fact #118243
When:
Short story: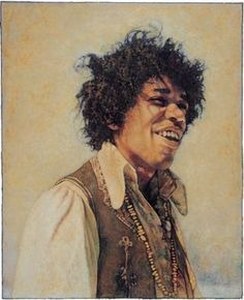 Jimi Hendrix
jams at Café Au Go Go, 152 Bleecker St, New York, with
Paul Butterfield
,
Elvin Bishop
, Harvey Brooks, Herbie Rich and
Buddy Miles
.
Full article:
Larry Coryell (guitarist) : Jimi was the first to do a whole host of things musical and things guitaristic - too numerous to mention here. But, for example, he practiced special techniques, such as working with the wah-wah pedal with the same depth and intensity that McCoy Tyner was working with new, fourths-based jazz chords. Jimi also worked with pedals and amps to the degree that his sounds predated analog synthesizer sounds - especially when I heard him jamming one night at the Cafe Au Go Go with Billy Cox and Buddy Miles.
(Source : Guitar Player, May 2012)

John Sebastian : I was riding around New York with him and (Mama) Cass, and Cass was rappin' about Castles Made Of Sand - 'You son of a bitch, you don't sing that song. You do something else with that song.' And Jimi was saying, 'Yeah,' and he says to me, 'You have to kind of pretend, like you have to sing it like you was almost falling asleep.' That's the way he spoke of arriving at the way to sing it.
Tweet this Fact