Fact #111659
When:
Short story: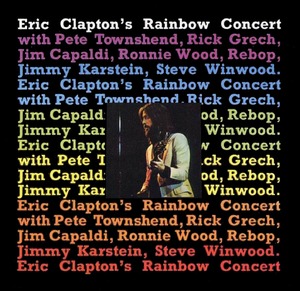 Eric Clapton
, with the help of
Pete Townshend
of The Who, stages his comeback with a
live all-star concert at The Rainbow
, London, UK.
Elton John
,
George Harrison
,
Ringo Starr
,
Jimmy Page
and Tony McPhee of The Groundhogs are among the celebrities in the audience. The opening act for the night is The Average White Band.
Full article:
Eric Clapton : I did the Rainbow Concert in January 1973 very much against my will. I wasn't even really there. It was Pete Townshend's idea, and I didn't know what I'd done to earn it. It's simply that he's a great humanitarian and cannot stand to see people throw their lives away. It didn't matter to him if I was willing or unwilling; he was making the effort so that I would realize, someday, that somebody cared. I'm always indebted to him for that.
(Source : interview with Robert Palmer, Rolling Stone, Jun 20, 1985)

Ronnie Wood : George Harrison was in the audience that night with his wife, Pattie Boyd. She was an absolute beauty who had had a bit part in the movie A Hard Day's Night, and had met George on the set. He fell for her, married her and wrote the song 'Something' for her. But Eric was in love with Pattie, too, and he'd written 'Layla' for her. From the audience's reaction, everybody must have known that.
. [Extract from Ronnie Wood's Autobiography 'Ronnie', McMillian Publishers, 2007. Chapter 8, Rainbow, p104-106]

Pattie Boyd : I was sitting in the audience with George, Ringo, Elton John, Joe Cocker and Jimmy Page. Eric didn't look well. His addict's diet of junk food and chocolate had made him put on weight.
(Source : From the book Wonderful Today, by Pattie Boyd with Penny Junor, is published by Headline Review on August 23, 2007)

Glyn Johns : Eric turned up at the gig and he was very nervous.

Eric Clapton : Alice and I, stoned out of our heads, turned up late to find Pete and Stigwood tearing their hair out. The reason for our lateness was that Alice had to let out the waist of the trousers of my white suit because I had taken to eating so much chocolate of late that I couldn't get them on any more.
(Source : Eric Clapton, The Autobiography)

Alice Ormsby-Gore : Five o'clock and there I am, sewing a six inch piece of material in the back of the trousers with black cotton.
(Source : feature in Rolling Stone, March 1, 1973)

Eric Clapton : I can't tell you how terrible I felt as we stood at the side of the stage. I was very nervous, felt sick, the whole bit. I didn't know what was going on. I couldn't find a running order anywhere and had to keep asking what we were going to do I didn't know where to look or what to do.
(Source : feature in Rolling Stone, March 1, 1973)

Charles Shaar Murray (reviewer, Cream) : On your left, behind grand piano and Hamond organ is Stevie Winwood, clean shaven, hair flowing down from a centre parting, looking absurdly young and boyish. Ronnie Wood, looking cockney hip with his chrome Zemaitis guitar, slide at the ready. Rick Grech on bass, who we need not concern ourselves with further except to say that he played great. Jim Kelstein from Taj Mahal's band on drums. Pete Townshend, who set up the band, looking at his most Baba-Weer-All-Crazee-Now in an off-duty Indian cotton smock, and a lumpy orange Gretsch Anniversary, a far more informal guitar from his usual lean, tough Gibson SG, Reebop Kwaaku Bah on congas, and Jim Capaldi on drums.

Ronnie Wood : The place was packed and went wild when we opened the show with one of rock's definitive love songs, Layla. Eric and Pete had me doing the Duane Allman slides in numbers like Layla and I had to learn all these complicated Clapton songs which I'd never played before. That they wanted me to be their Duane Allman was a big feather in my cap. The fact that they elected me to play the part of Duane suited me fine, as he was my bottleneck hero ever since I heard him play on Aretha's The Weight'. All the more so because it was the first time I'd played with the really big boys, boys I respected.
[Extract from Ronnie Wood's Autobiography 'Ronnie', McMillian Publishers, 2007. Chapter 8, Rainbow, p104-106]

Charles Shaar Murray (reviewer, Cream) : So out comes the riff of Layla, and the reaction is the same as hearing Dylan at Bangla Desh. For whatever reason, for however short a time, someone we loved to listen to had stepped out to be heard again. Ronnie Wood's playing the Duane Allman slide bits, while Townshend under-pins Clapton on the riff. Eric's singing nice: a rough-edged, dusty, well-used, but understated voice. Obviously, his vocal agility cannot match his dexterity on guitar, but something of the same phrasing is there.

Eric Clapton : For the first few numbers, I was in a daze. Then it suddenly clicked in and I began to get some confidence. I still thought that we didn't play enough, yet afterwards they told me that we went on too long.
(Source : feature in Rolling Stone, March 1, 1973)

Ronnie Wood : We did the Hendrix hit 'Little Wing' and lots of Eric's big songs like Let It Rain, Badge, After Midnight and Bell Bottom Blues. By the time we reached the end of the set with Key to the Highway and Crossroads, no one had any doubts - Eric was back.
. [Extract from Ronnie Wood's Autobiography 'Ronnie', McMillan Publishers, 2007. Chapter 8, Rainbow, p104-106]

Jimmy Page : I saw him at his Rainbow concert. At least at The Rainbow he had some people with some balls with him. He had Townshend and Ronnie Wood and Jimmy Karstein and Jim Capaldi. Pearly Queen was incredible. And I would have thought that after that, he would have said, "Right, I'm gonna get English musicians." Ever since he's been with American musicians, he's laid back further and further.
(Source : http://www.led-zeppelin.org/led-zeppelin-in-the-media/103-interview-with-robert-and-jimmy-jan-1975)

John Pigeon (reviewer) : There were a few mistakes (during the first show), initially weak vocals and occasional hesitancy coming in and out of the solos, but the band was much tighter than the audience could ever have expected it to be and no-one asked for his money back on the way out.
(Source : Let It Rock, Feb 1973)

Eric Clapton : Between the two shows I had time to sit and think a bit and really felt a lot better. I thought that the second show was really good - we tightened up a whole lot.
(Source : feature in Rolling Stone, March 1, 1973)

John Pigeon (reviewer) : The second set went even better than the first. The band was more relaxed, the solos more inventive. Clapton's solos on Roll It Over and In The Presence Of The Lord and his duet with Wood on Little Wing were as near perfection as anything he's ever played. The set was extended by the inclusion of Key To The Highway, and Crossroads was followed by a repeat of Layla. The audience was, not surprisingly, unwilling to let Clapton leave the stage, but the band had performed everything they'd rehearsed and a loose jam to finish would have been an anti-climax.
(Source : Let It Rock, Feb 1973)

Charles Shaar Murray (reviewer, Cream) : Even if Pete Townshend did most of the rapping and personality jive, we knew who that evening was all about. It was that guy in the white suit, who was blowing that sweet-biting ecstatic guitar, who was back in front of us after too long away.

Glyn Johns : He played the gig, but not terribly well, although no one expected him to be brilliant. The net result was that we had a tape that wasn't particularly amazing, which in my view, in the interests of the artists, shouldn't have been released as it was.

Eric Clapton : I had a good time doing it. It was when I listened to the tapes afterwards that I realized that it was well under par
Tweet this Fact