Random selection from around 860 Facts
Click to filter results
Sotd
Aviation pioneer
Amelia Earhart
disappears over the central Pacific Ocean near Howland Island during an attempt to make a circumnavigational flight of the globe in a Purdue-funded Lockheed Model 10 Electra. Her life and achievements will be celebrated in the song
Amelia Earhart's Last Flight
by Yodelling Cowboy
Red River Dave McEnery
. This is thought to have been the first song ever performed on commercial television, at the 1939 World's Fair. In 1972, the British group Plainsong will release an LP entitled,
In Search of Amelia Earhart
, which includes the song
The True Story Of Amelia Earhart
. Joni Mitchel will include a tribute song,
Amelia
, on her 1976 album,
Hejira
. Songs inspired by Earhart will also be recorded by artists including Bachman-Turner Overdrive,
Heather Nova
, Deb Talan, Nemo, Tom McRae,
John Mclaughlin
and Bell XI.
While flying an Airspeed Oxford for the Air Transport Auxiliary from Blackpool to RAF Kidlington near Oxford, renowned aviatrix
An eleven-member gang steals $1.2m in cash, plus over $1.5m in cheques, money orders and other securities from The Brinks Building in Boston, Massachusetts, USA. It is the largest robbery in the history of the United States, and will become feted as 'the crime of the century'. The incident will inspire the song
Brinx Job
by
Pavement
.
J.D. Salinger
's novel
The Catcher In The Rye
is first published by Little, Brown And Company in the USA. In 2008,
Guns N'Roses
will release a song called
Catcher In The Rye
, in which the song's writer Axl Rose, seems to be questioning why angst-ridden youths, such as Mark Chapman, the murderer of
John Lennon
, appear to be motivated by Catcher's anti-hero
Holden Caulfield
. Other songs which clearly relate to the book include If You Really Want To Hear About It by The Ataris, We Didn't Start The Fire by
Billy Joel
, Who Wrote Holden Caulfield? by
Green Day
and Le Pastie De La Bourgeoisie by Belle And Sebastian.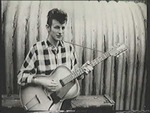 When Al Caldwell's Texans (later to become
Rory Storm
And The Hurricanes) play at The Mardi Gras Club, Liverpool, England, UK, Europe, they are joined by a new drummer, Richard Starkey. He will later, of course, change his name to
Ringo Starr
and, still later, move on to
The Beatles
. This is the first night on which Ringo played with The Hurricanes' guitarist,
Johnny Guitar
, and he will be inspired in 2017 to write the song Electricity, as his homage to the guitarist.
Read More
Patrice Lumumba
is assasinated by firing squad in the republic of Congo, Africa. The incident will inspire the song Patrice Lumumba by Yuri Buenaventura. He will also be mentioned in the song Done Too Soon by
Neil Diamond
and in My Country by Nas. The 1961 song "Top Forty, News, Weather And Sports" by Mark Dinning, included a line "I had Lumumba doing the rumba...", which was removed after Lumumba's death. Records in stores were recalled, and replaced by new ones without the inappropriate line.
Prime Minister
Daniel Gordon Stuart is born in Los Angeles, California, USA. He will find success as
Dan Stuart
, singer of rock band Green On Red. He will be inspired by his own birth to write the song March 5, 1961 on his 2018 LP The Unfortunate Demise of Marlowe Billings.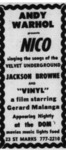 Nico is playing at The Dom, New York City, USA, with
Jackson Browne
as her accompanying musician. Browne will be inspired by Nico to write his song The Birds Of St. Marks about her.
Read More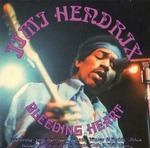 Jimi Hendrix
is arrested in Gothenburg, Sweden, Europe, after smashing up his room at the Opelan Hotel. The incident will inspire the lyric, 'Well I just got out of a Scandinavian jail, and I'm on my way straight home to you' in his song My Friend.
Read More
CBS TV suspends free advertising for the Eastern Europe-based
Radio Free Europe
, citing the fact that RFE did not make it clear that the station is at least partly funded by the
CIA
. R.E.M.'s 1981 debut single,
Radio Free Europe
, will be inspired by the station name, although its Michael Stipe-penned lyric is typically inscrutable.
Robert Plant
plays the third date on his first solo tour of the USA, at Rosemont Horizon, Chicago, Illinois, USA. The drummer with Plant's band for this tour is
Phil Collins
. On the same evening, Collins and Plant go to an exclusive Chicago restaurant, The Pump Room, but are refused admission because Collins is not wearing a jacket. The incident inspires the title of Collins' next album, No Jacket Required.
Teenager Wendell Mobley has a daughter, Lexi. The girl dies one year later, but around the time she would have turned 19, memories of her will inspire him to co-write There Goes My Life, which will become a major hit for
Kenny Chesney
.
Life In A Northern Town
by
Dream Academy
enters the UK Singles Chart at No38, where it will peak at No15. The song's infectious vocal chant will be sampled and used prominently in the hit Sunchyme by Dario G, which will peak at No2 in 1997.
Actor
Yul Brynner
dies, aged 65 of lung cancer, in New York City, USA. Although nominally an actor, he is best remembered for his role as King Mongkut in the musical The King And I, both on stage and in the cinema. Songs which took inspiration from Brynner include One Night In Bangkok from the 1984 muscal Chess (written by Benny Andersson and Björn Ulvaeus of
ABBA
), and the 1987 album track, Yul Brynner Was A Skinhead, by comedy-punk rockers Toy Dolls.
Robert Emmet Chambers, Jr., later nicknamed the 'Preppie Killer', murders 18-year-old Jennifer Levin in Central Park, New York City, USA. The murder and subsequent events will provoke a huge media circus, and will become the subject matter for such songs as
Jenny Was A Friend Of Mine
by
The Killers
and
Eliminator Jr
. by
Sonic Youth
.
British Prime Minister Margaret Thatcher officially
opens the M25 motorway
, designed as an outer bypass around London, England, UK. For many, the road will be seen as a failure, often described as "The Road To Nowhere". After being stuck in his car on the M25 for several hours,
Chris Rea
will be inspired write his song
The Road To Hell
.
Lorena Bobbitt who chopped off her husband's penis, claiming it was in retaliation for him sexually assaulting her, is acquitted by a jury in Manassas, Virgina, USA, by reason of temporary insanity. Bobbitt's revenge will inspire several songs, including Bobbit Song by stand-up comedian
Christopher George Latore Wallace, best known as rapper
Fourteen-year-old Andrew Gosden goes missing from his home in Doncaster, South Yorkshire, England, UK, Europe. He is last seen on CCTV footage at King's Cross Station in London later that morning. Andrew's disappearance will inspire the song
I Hope
, which will be released in 2016 by The Missing Persons Choir (including
Rick Astley
, Chesney Hawkes, Nik Kershaw, Carol Decker, Lesley Garrett, Hayley Tamaddon, Jodie Prenger, Debra Stephenson, Kerry Ellis, Balsamo Deighton and G4).
When
Ed Sheeran
plays a fundraising gig for The Crisis Homeless Shelter at Proud Galleries, Camden, London, England, UK, Europe, he meets 'Angel', a young woman whose story of drug addiction and prostitution inspires him to write his first hit single,
The A Team
.
Read More