Fact #46123
When:
Short story: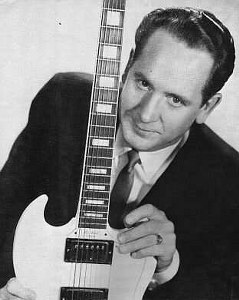 Lester Polfus is born in Waukesha, Wisconsin, USA. He will find fame as
Les Paul
, the innovative guitarist often credited with inventing
the first electric guitar
. He will also enjoy a successful recording career, as half of the husband and wife duo
Les Paul And Mary Ford
.
Full article:
Van Dyke Parks (singer, songwriter, arranger, producer) : My first purchased record was a 45. It was Lover, by
Les Paul
And
Mary Ford
. A short thought, absolute genius, and it changed my perception of the world. Real good things can come in small packages.
(Source : not known)
Tweet this Fact