Fact #38845
When:
Short story: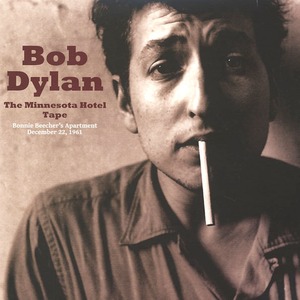 Having arrived in New York only the previous day,
Bob Dylan
visits his hero
Woody Guthrie
's family in Howard's Beach, New York, USA.
Full article:
Arlo Guthrie
: He had come to our house in Queens, looking for my father. We were sitting around, a bunch of us kids, and there was an older girl there watching us, a baby-sitter type who was kind of straight and went to parochial school.
This sort of ragamuffin-type human with weird shoes and crazy sort of hair - he looked like he just got off a freight train - was banging at the door. She opened it up and she was so nervous, she had two cigarettes in her hand at once, forgetting that she had just lit one.
My mother wasn't home but, eventually, he talked his way into the house and I guess my brother and sister were scared, but I took to him. I thought he had sort of neat shoes. They were like hiking boots. I figured, he can't be a crook - not wearing hiking boots. So I invited him in. He showed me something on the harmonica. Didn't last probably more than ten or fifteen minutes. The girl finally got the nerve to ask him to leave and come back sometime when my mother would be there.
(Source : not known)
Tweet this Fact