Fact #193938
When:
Short story: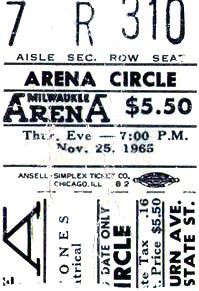 The
Rolling Stones
play for 3,433 fans
at The Municipal Arena
, Milwaukee, Wisconsin, USA, supported by The Rocking Ramrods,
Patti LaBelle
and the Blue Bells and
The Vibrations
. For their half-hour long show The Stones earned $15,000.
Full article:
Bernice Buresh (reviewer) : 'I Can't Get No Satisfaction' wailed the Rolling Stones in the Milwaukee Arena Thursday night. They weren't the only ones. And the reviewer tried, and tried, as the song goes, to think of something complimentary to say about the performance.

An effort was made to avoid being stodgy, and even resist being bitter while getting clobbered on the head (three times) and in the vertebrae (twice) with buttons, flashbulbs, rolls of candy and other unidentified flying objects.
Tweet this Fact