Fact #189366
When:
Short story: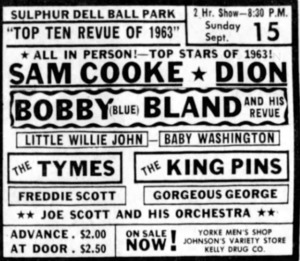 Sam Cooke
, Dion, Bobby Blue Bland,
Little Willie John
, Baby Washington,
The Tymes
, The King Pins, Freddie Scott, Gorgeous George and Joe Scott And His Orchestra play at Sulphur Dell Ball Park,
Nashville, Tennessee
, USA.
Full article:
Dion : That was some tour. Memphis - you know, we were travelling around through Virginia, down through the South, Mid-Atlantic. lt was kind of tense at times. Not Sam Cooke. Sam Cooke was a real gentleman. Him and I talked a lot. But I'd say some of the other guys, some of the musicians -
Bobby 'Blue' Bland
's players, some of the roadies or whatever they were. The gophers, guys who were hanging on to
Bobby 'Blue' Bland
, they got attitudes. So that was a little difficult. Sam was kind of a champion for that, cooling everybody out. I miss him. He was quite unique. He was full of music.
(Source : not known)
Tweet this Fact