Fact #181891
When:
Short story: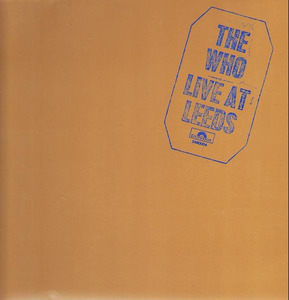 A live concert by The Who at Leeds University, Leeds, West Yorkshire, England, UK, Europe, is recorded for future release as an album.
Full article:
Pete Townshend : We recorded all the shows on the American tour thinking that would be where we would get the best material. When we got back we had eighty hours of tape and, well, we couldn't sort that lot out, so we booked the Pye mobile studio and took it to Leeds. It turned out to be one of the best and most enjoyable gigs we've ever done.

Chris McCourt (photographer) : I was booked into the same hotels as the band, two nights, Leeds, then Hull. Terrified, crapping myself really. My image of them was of these loonies with a reputation for smashing up hotels, but they seemed to be trying to be more serious. Pete said they were frightened by the kids at the front, fighting, the mods. You wouldn't imagine they had a conscience. He seemed really considerate and intelligent, nothing like the lout I imagined. Entwistle was never around – permanently asleep, apparently. Daltrey was very pre-occupied with the sound and practicing flinging his mike at the soundcheck. Interesting to photograph, actually, because of his American Indian suede fringe jacket thing with the tassles, plenty of movement.

Kit Lambert made various provisos which made it really difficult. You're not allowed on stage, so I had to photograph from the pit, you know, up their nostrils. You've got to get all four in each picture – again impossible. Photos backstage were completely off the menu. You can't use flash.

Bob Pridden (concert recording engineer): It was a bloody great gig. They were being serious about recording, and I think they got the nervousness over recording out in the States so that it made no difference to them at all.

The leakage is terrible, but when it all comes together, it's like the teeth of a comb. Bear in mind, they were very loud, and there were real problems with separation - but it made them sound bigger. It breathed. If you set a mic in front of an amp, it doesn't sound like that. Basically, the sound on Leeds is a freak.

Patrick Dean (reviewer, Yorkshire Evening Post) : The sound they create is really unique and their blasting ferocity gives an edge to their musical precision rather than distracting from it. Townshend was very happy about the set. "We played better than we have for a long time," he said.
Tweet this Fact