Fact #176960
When:
Short story: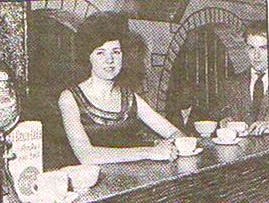 Former hat-check girl
Cilla Black
makes her stage debut in
The Cavern Club
, Liverpool, England, UK, Europe.
Full article:
Cilla Black : Brian Epstein wasn't particularly impressed but then he heard me again at
The Blue Angel
. I didn't even know he was in the audience. But he was more impressed that time, and he took me down to London to do an audition for George Martin at EMI. I remember Brian taking me into a pub beforehand. He was more nervous than I was. He bought two brandies and he drank both of them. George (Martin) seemed to like me and I certainly liked him. I fancied him like mad. He was gorgeous.
(Source : Independent On Sunday, 15 December, 2002)
Tweet this Fact