Fact #171340
When:
Short story: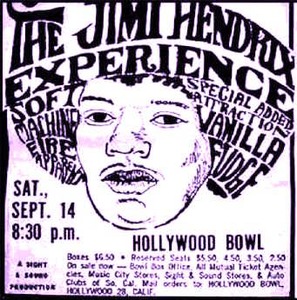 In the afternoon, The
Jimi Hendrix
Experience attend an autograph signing at The Groove Company, a record store in Hollywood, California, USA. In the evening The
Jimi Hendrix
Experience,
Soft Machine
,
Vanilla Fudge
and Eire Apparent play at
Hollywood Bowl
, Los Angeles, California, USA. The venue has a pool directly in front of the stage, and several fans jump in to get closer to the band.
Full article:
Bruce Johnston (Beach Boys) : There were 18,000 people there and the place was packed to capacity. It was once of the most exciting concerts I've ever seen – Jimi was fantastic. The orchestra pit in front of the stage is filled with water when there are no extra musicians and half the audience ended up swimming around in it – well, fifty of them anyway.
The Soft Machine started the show and were pretty good but the
Vanilla Fudge
had a lot of trouble with the sound system. It wasn't perfect for Jimi either, but he put on such a good show it didn't matter. He didn't even need to smash his guitar.
Mike (Love) and I went and sat out in the middle of the crowd and there were bottles smashing all around us and everyone raving about like mad.
Noel Redding
spent most of the night saying 'Thank you' over and over again which is not surprising considering the ovation. I understand that they got $30,000 for that concert.
The only sour note came when Jimi dedicated a number to Buddy Miles, the drummer with the
Electric Flag
, who tried to come on stage and got beaten up by a policeman for his pains.
(Source : not known)
Jeff Bryan : I Was an usher at the bowl 67 through 70 and was at this concert. Jimi encouraged people to jump in the reflection pool and then someone pulled in an LAPD officer and it got ugly from there. Pool was drained after the concert, left empty a few years and then removed.
(Source : Facebook posting)
Richard Hultberg (audience) : I was in the pool. Watched from right in front of him. I was 15. Jimi mentioned getting electrocuted. Before we jumped in the pool, a fan ran out on stage and stuck his head in one of the holes Jimi made in the Marshall speaker cover. The roadies ushered him off. When we jumped in the pool, I was wondering why I had to climb over pipes. They were fountains, that they turned on when certain old time acts were performing.
(Source : Facebook post)
Tweet this Fact