Fact #170893
When:
Short story: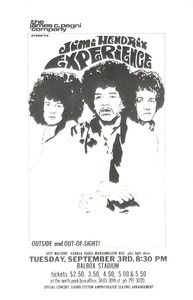 The
Jimi Hendrix
Experience,
Vanilla Fudge
,
Soft Machine
and Eire Apparent play
at Balboa Stadium
, San Diego, California, USA.
Full article:
Noel Redding : We got to San Diego plenty early so we all headed off to go out in boats - I chose a sail boat and everyone else was in speedboats. We had a great laugh, but somehow it didn't help Jimi's head, for even though we did a good show he was feeling very moody.
(Source : not known)

Ernie Graham (Eire Apparent) : I heard someone whistling at me. It was Jimi, whose room was opposite. He had the white label of Electric Ladyland, so I was the first person to hear it, with Jimi, in his room.
(Source : not known)

Dick Barnes (reviewer, San Diego Union) : The Jimi Hendrix Experience turned on a hip, happy crowd of 9,000 persons in Balboa Stadium last night with a strangely restrained but brilliant musical exhibition.

Hendrix, resplendent in red velvet pants and a psychedelic shirt, his wild hair close cropped, worked his way smoothly through his biggest hits. The group's sound, a unique, frenzied blend of Negro blues and electric rock which utilizes the most modern gimmicks, capped a fine three-and-half hour show.

Gone from the Experience performance were the sensational stage gestures and erotic caperings which have marked the group since its birth in 1966. Hendrix discarded most of the histrionics during his 50-minute set, to concentrate on showing the fans what he learned in five years of playing guitar for the finest rhythm and blues bands in the nation. He delighted the enthusiastic audience with 'Little Child' [sic] using an interesting wah-wah effect, 'Let Me Stand Next To Your Fire' and 'Foxy Lady'. In a instrumental version of Cream's 'Sunshine Your Love', the Experience and Hendrix in particular, eclipsed the English trio's performance. 'Foxy Lady' and 'Red House' both provided fine showcases for Hendrix's fine picking ability, a mark of his long apprenticeship in the bands of Little Richard, King Curtis and Joey Dee.'...

Performing on a makeshift stage in the concrete confines of vast Balboa Stadium seems to be the privilege of a few groups with the rare ability to bring the gray, grim monster to life.

Monty Norris (reviewer, San Diego Evening Tribune) : Last night in Balboa Stadium, nearly 9,000 of his subjects gathered to pay singer-guitarist Jimi Hendrix tribute, but in some respects he let them down. 'Sorry,' he told his audience before he wrapped up his 50- minute show with 'Hey Joe,' one of his biggest hits, 'I feel like I'm fallin' asleep.'

And after he finished four-minutes worth of the rock- blues tune he put down his guitar and said apologetically, 'Thanks for comin' - I'm sorry.' And quietly walked off stage where a gray Cadillac sedan carried him quickly out of the stadium.

But if the king disappointed his fans with his unexplosive performance, he did do a thoroughly job of convincing those who did come to listen to his music that he deserved the throne... "Red House and Foxy Lady, both of which he delivered well last night.

But despite the fact that Hendrix came off well musically, his performance was extremely mild compared with some of his past speaker-smashing, guitar-burning escapades. And the audience, although very responsive to his hard and husky sounds, was equally docile – a surprise switch from some of the reports of past psychotic melees at his concerts.
Hopefully it is just that Hendrix has realised he is good enough as a blues-rock singer and musician that he doesn't have to resort to juvenile gimmicks to stay on top. And he doesn't....

Three popular rock groups.. .preceded Hendrix on stage and did a good job of warming up the audience, but at the same time they also, unwittingly, demonstrated by their contrast to Hendrix the difference between mediocrity and excellence.
Tweet this Fact