Fact #168482
When:
Short story: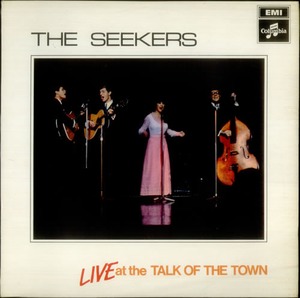 The Seekers
record an in-concert album, Live At The
Talk Of The Town
, in London, England, UK, Europe.
Full article:
Judith Durham (lead vocals, The Seekers) : The Seekers first sang together when I was 20. This album was recorded on my 25th birthday. In those five years we have ventured musically from the basic group sound of Morningtown Ride and Swag to the more complicated Colours, and Georgy Girl. Meanwhile, Bruce wrote songs culminating in the beautiful Angeline - Keith acquired a 12-string guitar to add to our instrumentation - Athol became our svelte joking compere 'never' at the ready with witty backchat to the hecklers. And I qualified as ragtime pianist in addition to my own solo songspot, folks. Such was our progress.
Bruce Woodley : I guess we had always wanted to record a live album but somehow never got around to it. Here is our first and last 'live' album. We hope we have captured the marvellous atmosphere in one of the world's top night spots, London's Talk of the Town. I hope all your favourites are on this album, enjoy them in good health. I hope these songs will remain for you to remember us fondly. It's been a pleasure to sing for you.
Athol Guy : An album of songs to us has usually represented a lot of hard, hard work - weeks of rehearsal and sometimes months of recording. The fact that we were able to record our act 'complete' whilst performing at
The Talk Of The Town
says a lot for the people who worked on this recording to achieve the 'live' atmosphere. My thanks to them for making it possible to hear the group at its very best, in the thick of a live unprompted audience.
(Source : not known)
Tweet this Fact