Fact #161956
When:
Short story: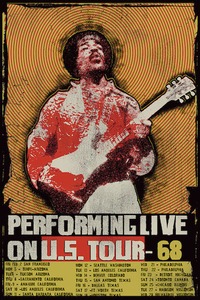 On the day that Martin Luther King is shot dead, The
Jimi Hendrix
Experience play at The Civic Dome, Virginia Beach, Virginia, USA.
Full article:
Mark Boyle (stage lighting designer) : The woman serving the drinks told us that Martin Luther King had just been assassinated and there were these guys at the bar drinking the health of the assassin. You immediately find yourself wondering what your role should be. You want to go in there and do something, you're so outraged. And I remember turning and looking at Jimi, who was just staring away into space as if nothing had happened. Of course, I realised that these guys were just waiting, trying to provoke some reaction from Jimi and us, so they could beat us up. I was terrified.
Tweet this Fact