Fact #140936
When:
Short story: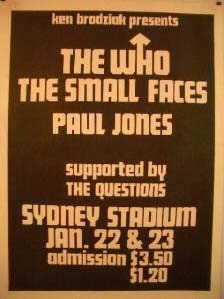 The Who, The
Small Faces
, Paul Jones and The Questions play the second of two nights at Sydney Stadium, Sydney, Australia,
Oceania
.
Full article:
Ron Blackmore (tour manager) : Something went wrong on stage, so Pete plugged in to one of The Faces' Marshalls. At the end of the show, he speared one of the cabinets with his guitar. There was a bit of a scene but, luckily, we were able to get a speaker for that cabinet and repair the damage.
Paul Jones : I liked all of them. I respected Townshend, who I thought was the most thoughtful and intelligent. John was very quiet and kept himself somewhat to himself. I was wary of Keith and Steve Marriott who were manic and hell-for-leather. That wasn't my way at all. The person that I seemed to get on most well with was Roger, who had a more down-to-earth side to him.
Ron Blackmore (tour manager) : I used to have to go up and divert the attention of the hall people away, while Bob (Pridden) got down and drove all these bloody nails in to hold down
Keith Moon
's drumkit. We'd distract everybody, and then we'd set up the smoke bombs and we used to hide them beside and around the amplifiers, so that nobody would know what we were gonna do because, if they did, they would definitely have stopped us.
(Source : not known)
Tweet this Fact