Fact #134096
When:
Short story: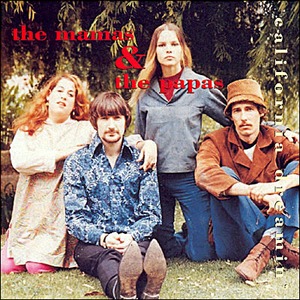 The Mamas And The Papas
sign a recording contract with
Lou Adler
of
Dunhill Records
in Los Angeles, California, USA.
Full article:
Denny Doherty (Mamas And Papas) : We're all just lying around vegging out watching TV and discussing names for the group. The New Journeymen was not a handle that was going to hang on this outfit. John was pushing for The Magic Cyrcle. Eech, but none of us could come up with anything better, then we switch the channel and, hey, it's the Hell's Angels on this talk show... And the first thing we hear is: "Now hold on there, Hoss. Some people call our women cheap, but we just call them our Mamas."
Cass jumped up: "Yeah! I want to be a Mama." And Michelle is going: "We're the Mamas! We're the Mamas!" OK. I look at John. He's looking at me going : "The Papas?" Problem solved. A toast! To
The Mamas And The Papas
. Well, after many, many toasts, Cass and John are passed out
Lou Adler (owner, Dunhill Records) : These people looked down and out, like they had just come off every trip available. But, when they sang, it was one of those musical moments you're forever thankful you were part of.
Michelle Phillips (Mamas And Papas) : It was a great relief when Lou Adler put the contracts on the floor and Cass had that pen out and she was signin'. I was very, very glad she was finally on board with us. It was such a big difference in the way it sounded. So that day was when
The Mamas And The Papas
really started.
Lou Adler (owner, Dunhill Records) : I couldn't believe anything hat good had just walked in off the street. (Source : Life magazine, 1966)
John Phillips (Mamas And Papas) : The first thing we did was to buy ourselves a car, a black '61 Buick convertible with huge fins.
Barry McGuire (Dunhill artist) : He (Adler) thought Michelle was cute. His main comment after hearing them sing was, 'Who's the blonde?' But he did like their sound, and we cut California Dreamin' as my second single, with them backing me.
John asked me if they could release it as their first single, so I said, 'It's your tune man, you wrote it.' Using the same backing track, they just took my voice off and put Denny's voice on.
Michelle Phillips (Mamas And Papas) : Cass emancipated me. She thought John had way too much control over me and, to this day. I've yet to meet another woman as strong, funny and fiercely independent as Cass was. We were extremely close.
She was very generous vocally too. John woul give us these impossibly high parts to sing because he loved the sound of girls in the clouds. Cass would tell me, 'Just go for it, Mich. You know I'm gonna make – come and join me.
(Source : Independent magazine, 30 October, 2004)
Tweet this Fact