Fact #129173
When:
Short story: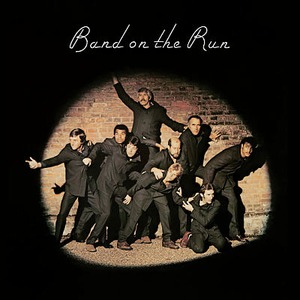 The
Paul McCartney
And Wings album
Band On The Run
is released on
Apple Records
in the UK.
Full article:
VINYL ICON

Paul McCartney And Wings - Band On The Run

by Johnny Black

Knife-wielding attackers, primitive recording facilities, medical emergencies - for sheer unadulterated behind the scenes drama and bizarre shenanigans, no other Paul McCartney album comes even remotely close to 1973's Band On The Run. Fortunately, the weird hi-jinks which surrounded its making didn't detract one whit from the music McCartney created in a ramshackle barn in back-of-beyond Lagos, Nigeria.

"We thought, 'Great! Lie on the beach all day, doing nothing'," revealed McCartney later, explaining why they chose to record in Lagos. "'Breeze in the studios and record'. It didn't turn out like that."

Work on the album had started at Macca's remote High Park Farm on the Mull Of Kintyre in Scotland in August 1973. McCartney and his wife Linda began rehearsing there with the other members of Wings - pianist/guitarist Denny Laine, guitarist Henry McCullough and drummer Denny Seiwell - but things didn't go as well as they had hoped.

On the 25th, after a disagreement about guitar parts, McCullough jumped ship, a decision he later described as, "probably the most unprofessional thing I've ever done in me life."

Come August 30th, the McCartneys and Laine had their bags packed for the flight to Lagos when Seiwell rang up to say he too was leaving because he felt his conditions of employment were unsatisfactory.

So the Wings that touched down in Lagos on September 1st consisted of just the two McCartneys and Laine, plus EMI engineer Geoff Emerick. Instead of a blistering hot African beachfront paradise, they encountered tropical monsoon storms and a studio that was little more than a shed.

"Here we were, the three of us in the studio," remembered Denny Laine. "No facilities. Things were hanging out of the wall and no-one knew where to hang them."

Nevertheless, with Emerick using his expertise to make the studio functional, the trio managed to press ahead with McCartney standing in for the missing McCullough and Seiwell.

The first track they recorded was the lightweight but mesmeric Mamunia, built round a catchy chant. Allegedly taking its title from the name of a hotel in Marrakesh where the McCartneys had stayed earlier in the year, the song's lyric concerns itself largely with rain and, appropriately, was recorded during a thunderstorm.

While walking from their house to Denny Laine's one day, Paul and Linda were accosted by a group of young men, one of whom was brandishing a knife. As McCartney has recalled, "Their eyes were wild and Linda was screaming, 'He's a musician, don't kill him!' You know, all the unreasonable stuff you shout in situations like that. So I'm saying, 'What do you want? Money?' And they said, 'Yeah, money,' and I handed some over."

Their attackers also made off with a bag full of demo tapes but, "Even though I had all my demos stolen in that robbery, I managed to remember enough of the songs to make the album."

Rather older than Mamunia, Bluebird dates back at least to 1971, because Paul and Linda sang it during a radio interview in New York City in that year. Suitably airy and wistfully optimistic, the lyric, like many on the album, deals with themes of freedom and the transcendent power of love.

Insubstantial through the lyrics of Mamunia and Bluebird may be, McCartney's gifts as a melody writer and arranger transform them into lustrous gems of the songwriter's craft, but an even more extraordinary example of his easy-flowing talent comes in Drink To Me (Picasso's Last Words) which McCartney has revealed he composed spontaneously in Jamaica when Dustin Hoffman challenged him to write a song based on a feature about Pablo Picasso in Time magazine. "I picked up a guitar, started to strum and sing 'Drink to me, drink to my health...', and Dustin was shouting to his wife, 'He's doing it! He's doing it! Come and listen!' It's something that comes naturally to me but he was blown away by it."

Having encountered the drummer Ginger Baker, who owned a studio in Lagos, Wings decided to record Picasso's Last Words there. "We started off doing it straight," remembered McCartney later, "Then we thought, Picasso was kind of far out in his pictures, he'd done all these different kinds of things, fragmented, cubism, and the whole bit. I thought it would be nice to get a track a bit like that, put it through different moods, cut it up, edit it, mess around with it - like he used to do with his pictures." For percussion, Wings (and Baker) half-filled tin cans with gravel and used them as shakers.

One Band On the Run song which remains a staple in McCartney concerts to this day is Let Me Roll It, prominently featuring Linda's keyboards, and swamped in echo which many interpreted as an homage to John Lennon's similar post-Beatles productions. "I wrote that up in Scotland one day," McCartney has said. "It was a nice day. I was sitting outside, plonking my guitar and I got this idea for a song. We took it off to Lagos and put down a backing track with Linda playing organ, me playing drums and Denny playing guitar. Then we overdubbed the big guitars you can hear right the way through it, going through a PA amp, not a guitar amp, but a vocal amp, which was a big powerful amp." In 2010, he also revealed that the lyric is not the simple love song it first seems. "To tell you the truth, that was more [about] rolling a joint. That was the double meaning there: 'Let me roll it to you.' That was more at the back of my mind than anything else."

As if the dramas of losing two band members before leaving for Lagos and being mugged after arriving weren't enough, McCartney also suffered an alarming health scare in the form of chest pains and an inability to breathe. "I was at the studio recording, came over all funny, went outside and just flaked out. Fainted, for the first time in my life."

Linda McCartney was, understandably, terrified when, "I laid him on the ground and his eyes were closed and I thought he was dead."

A mad dash across town to find a doctor resulted in a diagnosis of "bronchial spasm", brought on by smoking too much and stress. "I stayed in bed for a few days, thinking I was dying. It was one of the most frightening periods in my life. The climate, the tensions of making a record, which had just got to succeed, and being in this totally uncivilised part of the world finally got to me."

Under the circumstances, it's extraordinary that the album features so many superb songs but, even given the generally high standard, there are two that stand proud of the rest. The first of these is the title track, in which McCartney combines three distinctly different musical sections - tranquil rumination, funky rock and country rock - to fashion a coherently flowing whole. Lyrically too it's a typical Macca hodgepodge grafting the phrase, "If I ever get out of here" uttered some years earlier by George Harrison at an Apple records' meeting, onto ideas about prison breaks and restrictive drug laws. Somehow, though, it all comes together into one magnificent piece.

The second all-time classic is Jet, a magnificently rabble-rousing rocker with a lyric which is, if anything, even more baffling than the title track. Asked to explain it, McCartney was remarkably forthright in admitting, "I make up so much stuff. It means something to me when I do it, and it means something to the record buyer, but if I'm asked to analyze it I can't really explain what it is. 'Suffragette' (in Jet's lyric) was crazy enough to work. It sounded silly, so I liked it." For many years McCartney maintained that Jet was the name of his black Labrador dog, but in a 2010 tv interview he changed his story, claiming that Jet had been a pony.

Jet was also the last song to be recorded for the album, put to tape entirely at AIR Studios in London after the band returned from Lagos.

Much of the five days McCartney spent at AIR in mid-October 1973, however, was taken up with over-dubbing and re-mixing the Lagos recordings. Esteemed producer/arranger Tony Visconti devised orchestrations for Picasso's Last Words and other tracks, while Macca's old Liverpool chum Howie Casey added superb sax to Mrs Vanderbilt and Bluebird which also benefitted from percussion overdubs by Remy Kebaka.

Three final days of mixing were undertaken in London's Kingsway Studios during November, before the album hit the streets on December 5 in the USA and 7 in the UK.

The album and its extracted singles were all not just critically acclaimed but also hugely successful.

The album spent ten weeks at No1 in the UK while, across the Atlantic, it became the first LP ever to reach No1 in the Billboard Chart on three separate occasions. By 1976 it had sold over 5m copies in the USA alone and even one of McCartney's harshest critics, John Lennon, declared it "a great album."

PRODUCTION NOTES

Keen to record in an exotic location, McCartney plumped for EMI's studio in Lagos, Nigeria, assuming it would provide a relaxing, creatively stimulating environment.

Instead, it turned out to be a veritable barn in Wharf Road in the port of Apapa, equipped with an antiquated Studer 8-track tape recorder and microphones stored in a dusty cardboard box.

According to Denny Laine, "It was like a home studio. Nobody knew what we were doing except us." In that respect, by leaving behind the highly regulated and documented regime of Abbey Road, they had achieved a certain degree of freedom - but it came at a considerable price.

"They didn't use booths or separation barriers," recalled McCartney later, "so they were contracting booths just for us and the guy was saying, "Do you want glass in them?" They were just gonna make big wooden things with holes in them!"

The studio had been used previously by exotic-sounding local artists such as Geraldo Pino And The Heartbeats, The Orchestre Anassoa-Jazz De Parakou and The Orchestre Poly-Rythmo De Cotonou, who were probably just glad of the opportunity to record, but McCartney was used to EMI's state of the art Abbey Road facilities. It didn't help that the area was home to all manner of oversized bugs, notably huge spiders, which gave engineer Geoff Emerick the willies, or that a cholera epidemic was in progress.

Nevertheless, a routine was soon established, with the band arriving in mid-afternoon and working through, usually, until 10.00pm. "Normally me and Denny would start it off with a couple of acoustics, like you would for a demo," explained McCartney later. "Then it would be me on drums and then we'd build it up like a sculpture."

Devotees of historic recording gear might like to know that Band On The Run's Studer TG12345 8-track was subsequently rescued from Lagos and refurbished by Mark Knopfler, and now resides in his British Grove studios in London.

By Johnny Black, first appeared in Hi Fi News, August 2015
----------------------------------------------------------------------------

ADDITIONAL QUOTES
Paul McCartney : We thought, 'Great! Lie on the beach all day, doing nothing. Breeze in the studios and record. It didn't turn out like that.

The studio was kind of half-finished. It wasn't sunny Africa, in fact it was monsoon season. We got mugged in the street, and the studio manager said, you're lucky you're white, or they would have killed you. I sort of fainted and thought I'd died and gone to heaven - but I hadn't, I'd gone to Lagos!

I was at the studio recording, came over all funny, went outside and just flaked out. Fainted, for the first time in my life.

Linda McCartney : I laid him on the ground and his eyes were closed and I thought he was dead.

Paul McCartney : Went through the crazy African traffic and market noise to find a doctor, who said it was some sort of bronchial spasm. I'd been smoking too much or something. So it was a real trauma-ridden period, but we kept thinking, 'we'll show you'.

Even though I had all my demos stolen in that robbery, I managed to remember enough of the songs to make the album. There were a lot of things like that. Being told when I got back, 'don't go to Lagos - there's been an outbreak of cholera'. Being told your three- year-old kid couldn't swim in the swimming pool because she didn't have swimming trunks on. It was all very sort of strange, like a funny dream. But some nice music came out of it, which is the thing in the end, isnt it? It doesn't matter what happens...
Tweet this Fact