Fact #118247
When:
Short story: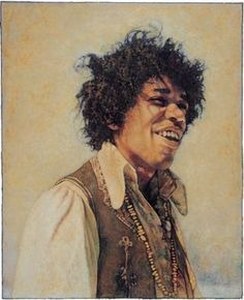 Jimmy Hendrix [
Jimi Hendrix
] is issued with an American passport, No. G 1044108, enabling him to travel to the UK with his new manager, Chas Chandler of ANIM Management.
Full article:
Randy California (second guitarist in Hendrix's band Jimmy James And The Blue Flames) : One day I arrived at work to find that Jimmy'd split for England. That was the end of it.

Tony Garland (executive at ANIM Management) : White America was listening to Doris Day - black American music got nowhere near white AM radio. Jimi was too white for black radio. Here, there were a lot of white guys listening to blues from America and wanting to sound like their heroes.

John Lee Hooker : Eric Clapton, John Mayall and all those other people over in England made the blues a big thing. In the States, people didn't want to know.
Tweet this Fact