Fact #118054
When:
Short story: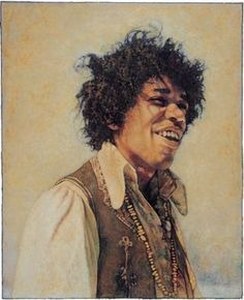 The
Jimi Hendrix
Experience play at Xavier University, Cincinnati, Ohio, USA.
Full article:
Jimi Hendrix (diary entry) : Bought a new Jazzmaster here and a practice amp. Got the guitar for recording.

Seymour W. Duncan (Pickup Designer/Founder of Seymour Duncan) : I met Jimi Hendrix at Xavier University on March 28, 1968. I came down early during his soundcheck. I was so excited, and I brought my camera and a bag of pickups I wanted to give him.

I was introduced to Jimi, his tech Roger Mayer, Noel Redding, and Mitch Mitchell. I handed Roger several of my rewound Fender pickups. He started putting the pickups in Jimi's white Strat that we took apart on a makeshift workbench. Jimi and I started talking about the different sounds he got out of his guitars. He showed me how he plucked the springs in the back cavity, tapped the back of the neck, and lowered the tremolo arm. He would pick behind the nut and close to the bridge for different sounds. He talked about how he could control feedback sitting by his amp.

I watched him practice on a Fender Jazzmaster and a sunburst Strat. He liked the tone of the Jazzmaster with the toggle switch in the middle position. The light wasn't great, but Jimi took an interest in my camera and took a few shots of me playing his Strat. A group of folks came in from the Goya guitar company with a hollow body electric for Jimi to try, and he had Roger reverse the strings. Jimi kept trying to get the tone he wanted, pushing knobs and trying to figure out the controls. He said to me, "Let's go up on stage and try it with the big amps," which were Sound City. Jimi plugged into his Fuzz Face and wah-wah and began to play, and he had all kinds of uncontrolled feedback. He took the guitar and smashed it into his speaker cabinet. I felt bad for the folks at Goya, but they clapped their hands and smiled ear to ear.

Jimi showed me the intro to Foxey Lady, and how he would manipulate the volume control as he moved the string back and forth on the fret. The guitar began to feed back, and we talked about adjusting pickups, and how he could raise and lower the pickups to control the type of feedback he wanted. I saw that he would put a piece of foil from a cigarette wrapper around the shaft of the pickup selector so it would stay in the 2 or 4 position better. He gave me the idea of taking 3-position switches apart, and notching the wafer inside the 1452 Centralab switch to get positions 2 and 4.

Jimi gave me several sets of his old strings, pickups, tremolo arms, back plates, springs, and a scarf, and he had the band sign autographs for me. As the show began, he asked me to carry his white Strat on stage, and that's something I will never forget. I believe Jimi gave me inspiration to make guitar tones, and to help players as he had done with me. I'm proud of the time I spent with Jimi, and proud to be a little part of his history.
(Source : Guitar Player magazine, May 2012)

Neville Chesters (road manager) : I think we did something like nine weeks worth of gigs and we didn't have too many days off … maybe four or five days … and in that nine weeks I think I have recorded in my diary 19,000 miles of driving. That doesn't include flying.
Tweet this Fact