Random selection from around 1,200 Facts
Click to filter results
German beat group The Rattles win a Best New Group competition at The Star Club, Hamburg.
Louis Armstrong
And His All-Stars play at Cocoanut Grove, Los Angeles, California, USA.

The 8th Eurovision Song Contest is held in two studios at the BBC Television Centre, London, UK. After much confusion regarding the results of the Norwegian jury, Denmark snatches victory from Switzerland after a close run. The Danish husband-and-wife duo Grethe and Jurgen Ingmann take the prize with Dansevise.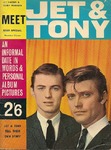 Jet Harris And Tony Meehan
play at The Odeon, Southend, England, UK, Europe.
Bob Dylan
records Paths Of Victory, Hero Blues, Eternal Circle and other tracks during the third recording session for his album The Times They Are A-Changin' in New York City, USA.
The Dixie Hummingbirds, The Mighty Clouds Of Joy, The Swan Silvertones, The Soul Stirrers, The Five Blind Boys Of Alabama, The Pilgrim Jubilees, The Swanee Quintet, The Gospelaires, The Violinaires, the Rev. Claude Jeter and others play at Washington Temple, Washington, DC, USA.
In an interview published in the New York Daily News,
Bob Dylan
states, "The times cry for the truth ..... and people want to hear the truth, and that's just what they're hearing in good folk music today."
Dylan plays at the Regent Theater, Syracuse University, Syracuse, New York State.
assassination of President John Fitzgerald Kennedy
in Dallas, Texas, USA, inspired almost as many songs as it did conspiracy theories. Among the most memorable are
He Was A Friend Of Mine
by
The Byrds
[and others],
Abraham, Martin And John
by
Marvin Gaye
[and others], Dallas 1pm by
Saxon
and November 22nd 1963 by Destroy All Monsters. And let's not forget JAMES DOTSON - A Tragedy In Dallas, THE JUSTICE BROTHERS - The Tragedy Of John F. Kennedy, THE SOUTHERN GOSPEL BAND - The Death Of John F. Kennedy,
HASIL ADKINS
- Memories Of Kennedy, JIM KLINK - The Death Of John F. Kennedy, BUDDY PASTUCK - John F. Kennedy, BILL KUSHNER - J.F.K.bAnd That Terrible Day, HONORABLE BOB PETERS - A Sunny Day In Dallas, HAYDEN PRIVETT - The Death Of John F. Kennedy, JOHNNY DEE - A Tribute To President Kennedy, RALPH RYAN - The Death Of John F. Kennedy, LOWELL YODER - Don't Blame The State Of Texas, HASILADKINS - Memories Of Kennedy, JOHNNY TUCKER - Mr. Kennedy, BOBBY JENZEN - Two Brothers, HOMER HENDERSON - Lee Harvey Was A Friend Of Mine.
The