Random selection from around 830 Facts
Click to filter results
Sotd
In the wake of persistent torrential rains,
The Alabama Flood
reaches its peak, with water ten feet or more deep in the towns of Elba and Geneva. Thousands of people are stranded on rooftops for three days, and damage is estimated at over $9m. Amazingly, only one fatality occurs, when a blind Negro man named "Phoe" Larkins is swept from a box car in New Town. Within a few days, Andrew Jenkins will record the song Alabama Flood for
OKeh Records
, and Vernon Dalhart will record Alabama Flood for Harmony Records, both songs being inspired by the calamity.
Barbecue Joe And His Hot Dogs
record Tar Paper Stomp, composed by their cornet player
Wingy Manone
, for Champion Records in Richmond, Indiana, USA. The main melody of the song will inspire Joe Garland and Andy Razaf to write an arrangement with the name
In The Mood
, which will become an international hit for
Glenn Miller
And His Orchestra in 1940.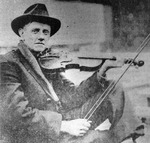 Fiddlin' John Carson
records Stockade Blues for
Bluebird Records
in Camden, New Jersey, USA. The song is thought to have been inspired by The Midnight Special train operated by the Chicago and Alton Railroad between Chicago, Illinois, USA, and St. Louis, Missouri. In many ways, the song is similar to
The Midnight Special
subsequently made famous by
Lead Belly
.
Superman
makes his debut in Action Comics No1, published by DC Comics in the USA. Although the concept of a superman goes much further back, it is this comic book hero who will
inspire numerous songs
including O Superman by
Laurie Anderson
(1982), Superman's Song by Crash Test Dummies (1991), Superman by
Barbra Streisand
(1977), Wish I Could Fly Like Superman by
The Kinks
(1979) and Superman by
Taylor Swift
(2010).
The comic book character
Over 350 Japanese fighters, bombers and torpedo planes launch a
The dystopian sci-fi novel
Nineteen Eighty-Four
by George Orwell is published in the UK. The book and its sinister character,
Big Brother
, will inspire numerous songs, including
1984
by
Spirit
and
Big Brother
by
Stevie Wonder
. In September 2009, the English alternative rock band Muse will release The Resistance, which includes songs influenced by 1984.
Bela Lugosi, the actor famed for his on-screen representations of Dracula, dies aged 73, of a heart attack, at his home in Los Angeles, California, USA. His passing will inspire the 1979 song
Bela Lugosi's Dead
by
Bauhaus
.
Jazz critic
Steve Race
writes a feature in UK pop music weekly
Melody Maker
celebrating what he believes to be the demise of rock'n'roll. When teenager
Ian Samwell
reads it, he is angered and inspired to write the song
Move It
, which will become the first genuine British rock'n'roll hit, sung by
Cliff Richard
.
Man Of Mystery
by
The Shadows
enters the UK Popular Singles Chart where it will peak at No5, during a fifteen-week run on the chart. This song will inspire the guitar part on the 1977
Elvis Costello
hit song Watching The Detectives
Read More
Patrice Lumumba
is assasinated by firing squad in the republic of Congo, Africa. The incident will inspire the song Patrice Lumumba by Yuri Buenaventura. He will also be mentioned in the song Done Too Soon by
Neil Diamond
and in My Country by Nas. The 1961 song "Top Forty, News, Weather And Sports" by Mark Dinning, included a line "I had Lumumba doing the rumba...", which was removed after Lumumba's death. Records in stores were recalled, and replaced by new ones without the inappropriate line.
Prime Minister
The Kings Of Surf Music, The
The
Rolling Stones
play the first of two nights at
Madison Square Garden
, New York City, USA, which are recorded for the live album Get Yer Ya-Yas Out. Also on the bill are
B.B. King
,
Ike And Tina Turner
and
Terry Reid
.
Jimi Hendrix
also attends the show. Later, there is a birthday party for
Jimi Hendrix
at producer Monte Kay's apartment, attended by The Stones. During the party,
Mick Jagger
pricks his finger and Hendrix's girlfriend, Devon Wilson, sucks the blood from his finger, inspiring Hendrix to write the song Dolly Dagger ("She drinks her blood from a jagged edge").
Read More
Eight soldiers on ceremonial duty are killed in two IRA bomb blasts
in central London, England, UK. The first blast, in Hyde Park, kills two soldiers of the Household Cavalry, plus seven horses. 23 other people are injured. The second explosion, less than two hours later, kills six soldiers and injures a further 24 people during a concert by the band of the Royal Green Jackets on a bandstand in Regent's Park. The
Pink Floyd
song
The Gunner's Dream
will be written as a comment on these atrocities.
Conor Clapton
, the four-year-old son of guitarist and singer
Eric Clapton
, falls to his death from a 53rd-story window in Galleria Condominiums, an apartment block in Manhattan, New York City, USA. The boy was staying in the apartment block with his mother, the actress Lori Del Santo. Clapton will write the song
Tears In Heaven
, in memory of Conor.
Read More
War On Terror
speech to a joint session of Congress in Washington DC, USA. Numerous songs will be inspired by the War On Terror, notably My Name Is Liar (2016) by Norwegian band Highasakite.
US President George W. Bush delivers his