Random selection from around 880 Facts
Click to filter results
Sotd
Great Fire of London
breaks out. It will burn for three days, consuming 13,200 houses, 87 parish churches, St Paul's Cathedral, and most of the buildings of the City authorities. It is estimated to have destroyed the homes of 70,000 of the City's 80,000 inhabitants. The massive conflagration will inspire numerous songs including the traditional children's song London's Burning, and September 1666 by Al Start
The
California Gold Rush
begins when gold is found by James W. Marshall at Sutter's Mill in Coloma, California, USA. In the next decade, the Gold Rush will attract tens of thousands of prospectors from Latin America, Europe, Australia and Asia, hoping to make their fortunes. The period will be documented in songs such as The Days Of '49, Prospecting Dream and
Clementine
.
The
After several months of relatively minor volcanic activity the island of
Krakatoa
, in the Sunda Strait between the islands of Java and Sumatra in Indonesia, is destroyed by a massive volcanic eruption. The eruption will inspire the 1974 track
Krakatoa
by
Styx
, and the 1985 song
Krakatoa
by the English heavy metal band
Saxon
.
The Searchers
, opens at The State Theatre, Lubbock, Texas, USA, for three weeks. While it is there, it is seen by local musicians
Buddy Holly
and
Jerry Allison
who are so taken by Wayne's catch-phrase, '
That'll Be The Day
', that they write a song of that title when they return home. The title of the same movie will later also inspire the name of a popular Liverpool band of the 1960s.
A new John Wayne movie,
While
The Beatles
are rehearsing for the BBC-organised
Swinging Sound 63
, a trad jazz/beat music package at The
Royal Albert Hall
, London, England, UK,
Paul McCartney
meets actress
Jane Asher
, soon to become his girlfriend. She will inspire songs including
All My Loving
,
And I Love Her
,
I'm Looking Through You
,
You Won't See Me
,
We Can Work It Out
,
Here, There and Everywhere
, and
For No One
. For the record, the
Royal Albert Hall
show also features
Del Shannon
,
The Springfields
,
Rolf Harris
,
Shane Fenton
,
Kenny Lynch
,
The Vernons Girls
and
Lance Percival
, and is compered by jazz veteran
George Melly
. The
Rolling Stones
also go along to hang out with
The Beatles
.
Two black males enter the Lafayette Bar and Grill in Paterson, New Jersey, USA, where they kill the bartender, James Oliver, and a male customer, Fred Nauyoks. A severely wounded female customer, Hazel Tanis, dies some weeks later. Championship boxer
Rubin 'Hurricane' Carter
will be arrested and jailed for the crime.
Bob Dylan
will write the song
Hurricane
in 1975, insisting that Carter did not commit the murders. Carter will be freed in November 1985 when the convicition is set aside on the grounds that it had been "predicated upon an appeal to racism rather than reason, and concealment rather than disclosure."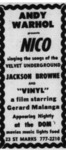 Nico is playing at The Dom, New York City, USA, with
Jackson Browne
as her accompanying musician. Browne will be inspired by Nico to write his song The Birds Of St. Marks about her.
Read More
Haile Selassie delivers a speech to the United Nations in New York City, USA, pleading for civil rights in Ethiopia. His words in this speech will be adapted by the Barrett brothers as lyrics in the song
War
, which will be recorded by
Bob Marley
on his 1976 album Rastaman Vibration.
Over 300 Vietnamese people, mostly women, children, infants and elderly people, are killed in
The My Lai Massacre
. The killings are carried out by United States Army soldiers of "Charlie" Company of 1st Battalion, 20th Infantry Regiment, 11th Brigade of the Americal Division. 26 soldiers will be charged with criminal offenses for their actions at My Lai, but only one, Platoon Leader Second Lieutenant William Calley, will be convicted. Found guilty of killing 22 people, he will serve just three and a half years under house arrest. This atrocity
inspires several songs
, both for and against Calley. Tragically, the best-remembered is perhaps the fiercely patriotic
Battle Hymn of Lt. Calley
by
Shelby Singleton
.
Elvis Presley
's powerfully emotional response to the previous night's assassination of Robert Kennedy inspires producer Steve Binder to ask Earl Brown to write a song expressing those emotions. Brown will write
If I Can Dream
.
Actress Sharon Tate and several guests are murdered by members of the Manson Family in her home at 10050 Cielo Drive, Benedict Canyon, Los Angeles, California, USA.
Read More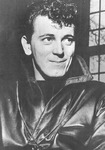 After suffering from a bleeding ulcer for months,
Gene Vincent
dies of a seizure in Newhall, California, USA. English rock artist Ian Dury, a lifelong
Gene Vincent
fan will, in due course, be inspired to write the song
Sweet Gene Vincent
(1979) about his life and death.
Rick Nelson
is booed during an oldies show at a Madison Square Garden, New York City, USA, when he plays some of his newer songs. Incensed by the crowd's response, he will pen the song
Garden Party
, which will go to No6 in the charts in the USA, heralding a new period of success for the former teen idol. [Other acts performing on this night are
Chuck Berry
,
Bobby Rydell
,
Bo Diddley
,
The Shirelles
, The Coasters and Gary 'US' Bonds.]
Read More
Paul McCartney
and his family touch down at Metropolitan Airport,
Nashville, Tennessee
, USA, at the start of a six week stay on a farm in the neighbouring town of Lebanon. The farm is owned by songwriter Curly Putman Jr, and the McCartneys' time spent there will inspire Paul to write the hit single
Junior's Farm
.
Read More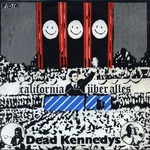 Gerry Brown
is sworn in as the new Governor of California, in Sacramento, California, USA. Brown's arch-conservative actions while in office will inspire Jello Biafra of punk-rock band
The Dead Kennedys
to write the song
California Uber Alles
.
Russian serial killer Andrei Chikatilo commits the first of 56 murders. He will become known as The Butcher of Rostov and his vile crimes will provide subject matter for such songs as Psychopathy Red by
Slayer
, Red Ripper Blues [Andrei Chikatilo] by Church of Misery, Sewers by Torture Killer and Ripper von Rostow by Eisblut.
Mount St. Helens in Skamania County, Washington, USA, erupts into volcanic, lava-spitting action.
Numerous songs will be inspired
by the eruption including Mount St. Helens Blues by Blue Lights, Volcano Rag by Joe D. Lake and Eruption 1980 by Buddy Foley.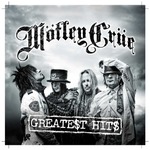 Nikki Sixx of
Motley Crue
is charged with assaulting a police officer with a deadly weapon, following an incident earlier in the evening outside the Rainbow Bar And Grille in Los Angeles, California, USA. Charges are dropped later in the year, and the incident will be immortalised in the
Motley Crue
song Knock 'Em Dead, Kid.
Read More
Teenager Wendell Mobley has a daughter, Lexi. The girl dies one year later, but around the time she would have turned 19, memories of her will inspire him to co-write There Goes My Life, which will become a major hit for
Kenny Chesney
.
Actor
Yul Brynner
dies, aged 65 of lung cancer, in New York City, USA. Although nominally an actor, he is best remembered for his role as King Mongkut in the musical The King And I, both on stage and in the cinema. Songs which drew inspiration from Brynner include One Night In Bangkok from the 1984 muscal Chess (written by Benny Andersson and Björn Ulvaeus of
ABBA
), and the 1987 album track, Yul Brynner Was A Skinhead, by comedy-punk rockers Toy Dolls.
A young girl suffering from memory loss is prevented from committing suicide by jumping from the Severn Bridge, Bristol, England, UK, Europe. A newspaper report of the incident will provoke Fish of UK prog-rock band
Marillion
to write the songs which will be released as the album Brave.
Bush
release a new single,
Glycerine
. When the song is heard by
Billie Myers
, she thinks singer Gavin Rossdale is singing "Kiss the Rain". When she learn of her mis-hearing, she decides that
Kiss The Rain
would be a good song title, and goes on to write a hit single of that title with professional songwriter
Desmond Child
in 1997.
Read More
Taylor Swift
plays at Spartanburg Memorial Auditorium, Spartanburg, South Carolina, USA, supported by Love And Theft. Swift finds herself very attracted to Stephen Barker Liles, vocalist of
Love And Theft
, and will be inspired to write the song
Hey, Stephen
about him. Around the same time, Barker wrote the song Try To Make It Anyway about Swift.
Read More