Random selection from around 240 Facts
Click to filter results
Very Important
Ferdinand Magellan
is killed by Filipino tribesmen, just months after becoming the first man to sail from the Atlantic to the Pacific Ocean. His life, death and achievements will be celebrated in the song Philippines History by
Yoyoy Villame
, The Ballad Of Magellan by
Animaniacs
and Magellan Was Wrong by
Bob Lind
.
Spanish explorer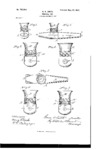 George D. Smith of Buffalo, New York State, USA, applies for a patent in respect of his invention of
an improved type of kazoo
.This is the first submarine-shaped kazoo and also the first metal kazoo.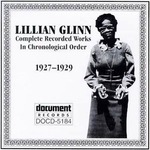 Lillian Glinn
is born in Hillsboro, Texas, USA. She will find success as a pioneering female blues and country blues singer and songwriter.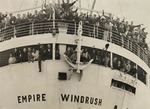 The
Empire Windrush
arrives at Tilbury docks, London, England, UK, bringing with it almost 500 Jamaicans, along with a handful of Trinidadians, including the Trinidadian calypsonians
Lord Kitchener
and
Lord Beginner
.
Calypso
had arrived in the UK.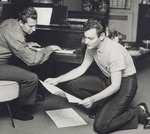 Aspiring young New York City-based pianist
Neil Sedaka
is approached by his neighbour
Howard Greenfield
about the possibility that the pair might collaborate on writing a song. Working from the
Brill Building
, the
Sedaka-Greenfield
combination will become one of the most successful hit-writing duos in the history of pop music.
Elvis Presley
is in Hollywood, Los Angeles, California, USA, re-shooting the ending of
Wild In The Country
, because pre-release screening audiences did not like the original ending in which Hope Lange committed suicide.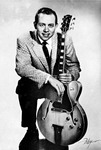 After receiving death-threats, revered Nashville session guitarist
Hank Garland
is seriously injured when he crashes his 1959 Chevy Nomad station wagon on Route 41 near Springfield, Tennessee, USA. Two local residents claim to have heard gunfire immediately before the crash, and bullet-like holes were later seen on the vehicle. The man whose guitar can be heard on hits by
Elvis Presley
, The
Everly Brothers
and
Patsy Cline
, will never work again.
Read More
After strangling his mother to death and stabbing his wife, engineering student and former US Marine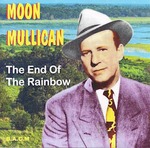 Country music star
Moon Mullican
dies of a heart attack, aged 57, in Beaumont, Texas, USA.
Read More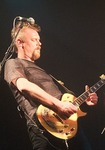 Fredrik Nordström
is born in Sweden, Europe. He will find success as the guitarist in melodic death metal band Dream Evil.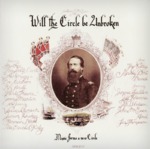 The
Nitty Gritty Dirt Band
start work on their classic triple-album set, Will The Circle Be Unbroken at Woodland Sound Studios,
Nashville, Tennessee
, USA. The album brings together several generations of country-inspired musicians by featuring The Dirt Band along side such country legends as Mother Maybelle Carter, Earl Scruggs (and his banjo too),
Doc Watson
,
Roy Acuff
,
Merle Travis
and
Jimmy Martin
.
Read More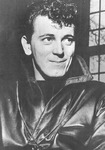 After suffering from a bleeding ulcer for months,
Gene Vincent
dies of a seizure in Newhall, California, USA. English rock artist Ian Dury, a lifelong
Gene Vincent
fan will, in due course, be inspired to write the song
Sweet Gene Vincent
(1979) about his life and death.
A coffin containing the body of country-rock star
Gram Parsons
is stolen from LAX Airport, Los Angeles, California, USA, by his road manager,
Phil Kaufman
, who drives it out to the Joshua Tree National Monument in the Navajo Desert and sets fire to the corpse, in accordance with a request made by Parsons before his death. The incident is immortalised in the song
Fast Cars And Rented Beds
by
Julian Dawson
on his 2004 album
Bedroom Suite
. The 2003 movie
Grand Theft Parsons
is about the same incident. Another song inspired by the life [and death] of Gram Parsons is
My Man
by
The Eagles
.
Read More
Janet Vogel
of hit-making 60s vocal group The Skyliners commits suicide in her car in her garage at home in Pittsburgh, Pennsylvania, USA.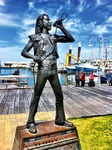 The official coroner's report on the recent death of singer Bon Scott of
AC/DC
, who passed away in a car in Overhill Road, London, England, UK, Europe, is death by misadventure – acute alcohol poisoning.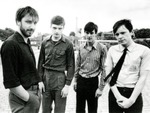 In Manchester, England, UK, Europe, Ian Curtis of
Joy Division
watches the Werner Herzog movie Stroszek on television. The film is about an alcoholic musician who commits suicide. Two days later, Curtis will commit suicide by hanging himself.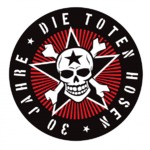 West German punk rock band Die Toten Hosen play a secret gig in Erlöserkirche, East Berlin, East Germany, Europe. The gig is organised by Mark Reeder, formerly of Manchester band The Frantic Elevators, who had moved to West Berlin in 1979.
Read More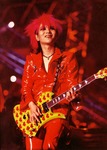 Phenomenally successful Japanese rock guitarist
Hideto Matsumoto
hangs himself in Tokyo, aged 33. 25,000 fans will attend his funeral, and three will commit suicide within days, believing life to be unbearable without him. He was best known under his stage name of Hide, as lead guitarist for X Japan.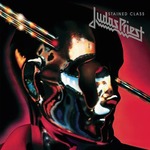 The trial of heavy metal band
Judas Priest
- based on allegations that subliminal messages in their 1978 LP Stained Class contributed to the deaths by suicide of fans Raymond Belknap and James Vance - comes to the end of its third week in Reno, Nevada, USA. Phyllis Vance, the mother of James, states, "They live off of young fans like my son, kids who invest all their money in bands like
Judas Priest
. James was my only child. He was my life. All the money in the world couldn't bring him back."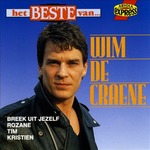 Popular singer
Wim De Craene
commits suicide, aged 40, by taking an overdose of medication in Ghent, Belgium, Europe.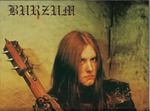 Oystein Aarseth, aka Euronymous, a member of Norwegian
death metal
band
Burzum
, is found dead in the stairwell of his building, with 23 knife wounds in his corpse.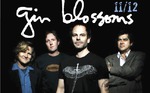 Seriously alcoholic
Doug Hopkins
, guitarist and songwriter of The
Gin Blossoms
, commits suicide by shooting himself in the head with a .38-cal. special pistol on the bed of his apartment in Tempe, Arizona, USA.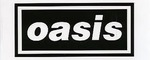 An inquiry at the Sheriff Court, Dumbarton, Scotland, UK, Europe, into the death of
Oasis
' roadie Jim Hunter in 1996, is told that the man died by being crushed between a lorry and a fork-lift truck shortly after an angry outburst by vocalist
Liam Gallagher
.
A series of four co-ordinated suicide attacks on the USA, usually referred to as
The 9/11 Attacks
, take place in New York City and Washington, D.C. Terrorists from the Islamist militant group Al-Qaeda hijack four passenger jets and deliberately crash two of them, American Airlines Flight 11 and United Airlines Flight 175, into the Twin Towers of the World Trade Center in New York City. Another plane, American Airlines Flight 77, is crashed into the Pentagon in Arlington, Virginia. The fourth jet, United Airlines Flight 93, crashes into a field near Shanksville, Pennsylvania after passengers attempt to take control before it can reach its intended target in Washington, D.C. Nearly 3,000 people die in the attacks. Several songs will be written about the attacks including
The Rising
by
Bruce Springsteen
,
Let's Roll
by Neil Youn, Wall Street by
Van Dyke Parks
and
This Ain't No Rag, It's A Flag
by
Charlie Daniels
. The track 9-11-01 by Soulfly consists of one minute of silence. Several songs on Trouble Is Real, the debut LP by Johnathan Rice, are about the attacks, including City On Fire, Put Me In Your Holy War, and Salvation Day.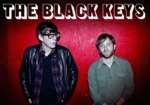 The Six Parts Seven and The
Black Keys
release a joint EP, The Six Parts Seven/The
Black Keys
, on Suicide S queeze records in the USA.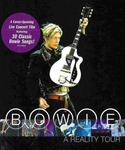 On his
A Reality Tour
,
David Bowie
's concert at The James L. Knight Center, Miami, Florida, USA, is cancelled after lighting technician Walter "Wally Gator" Thomas falls to his death prior to Bowie going onstage.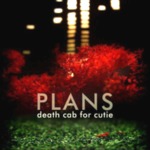 Death Cab For Cutie
release their fifth album,
Plans
, in the USA.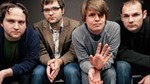 Jason McGerr of Death Cab For Cutie and Kele Okerere of
Bloc Party
are among guests attending an after-show party for the Austin City Limits Festival in The Old Bicycle Sports Shop, Austin, Texas, USA.
Lonnie Donegan
's first recordings, which launched the skiffle craze and led to the birth of British rock'n'roll. In the 1960s he was instrumental in bringing
David Bowie
and
Genesis
to Decca and produced
The Moody Blues
' album Days of Future Passed.
Celebrated record producer Hugh Mendl dies aged 88 in Torbay, Devon, UK, Europe. Mendl was responsible for
Wealthy Maryland landowner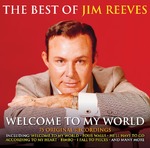 A two-day trial opens in Davidson County Probate Court, Tennessee, USA, to determine
how royalties for the late Jim Reeves' recordings will be split
. Although Reeves died almost fifty years ago, his work still generates $400,000 per year. Terry Davis, who was married to
Jim Reeves
' widow for thirty years until her death in 1999, feels that he should receive part of those royalties.
Metallica
guitarist
Kirk Hammett joins members of his former band, Exodus
, on stage at Oakland Metro, Oakland, California, USA, during a memorial concert to mark the 10th anniversary of the death of Exodus's former singer
Paul Baloff
. The concert, titled 'Bonded By Baloff: A Decade Of Remembrance', also features performances from Possessed, Forbidden, Heathen and others.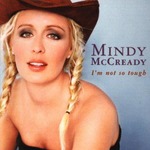 Country singer
Mindy McCready
gives birth to her second son, Zayne, in the USA.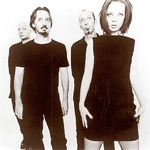 Los Angeles Superior Court approves a search wa rrant for police to investigate the identity of an individual going by the name of @Gunn2urhead who has been sending
death threats via Twitter
to Shirley Manson, the singer with
Garbage
.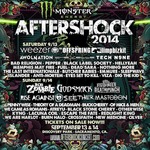 Rise Against, Rob Zombie,
Atreyu
, Black Stone Cherry, Godsmack, Five Finger Death Punch, Lacuna Coil, Mastodon, Seether,
Theory Of A Deadman
and others play on the second day of the
Aftershock 2014
Festival, Discovery Park, Sacramento, California, USA.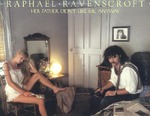 Rock saxophonist
Raf Ravenscroft dies at the Royal Devon and Exeter Hospital, Devon, UK, aged sixty
following a heart attack. He was best-known for playing the sax break in Gerry Rafferty's 1978 hit Baker Street, but also worked with many other top-flight musicians including
Marvin Gaye
,
Daft Punk
,
Pink Floyd
and
Abba
.
Motorhead
's classic 1980 track
Ace Of Spades
finally makes its appearance in the
Billboard
charts in the USA - presumably spurred by the recent death of the band's frontman Lemmy Kilmister. It enters the magazine's Hot Rock Songs chart at No12, thr Rock Streaming Songs chart at No24, and the Hard Rock Digital Songs Chart at No8. It even reaches No3 on the LyricFind Chart which measures the number of lyric searches worldwide.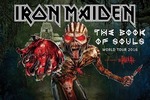 On their
The Book Of Souls World Tour
,
Iron Maiden
play at Estadio Jorge Magico Gonzalez, El Salvador, San Salvador, Central America. While in the region, Maiden's drummer Nicko McBrain and guitarist Janick Gers
visit the tomb of Archbishop Oscar Arnulfo Romero
, who was assassinated by members of a Salvadoran death squad, during a mass in 1980 at the start of the Salvadoran Civil war.
Read More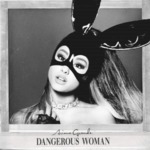 At least
22 people are killed and over 50 injured
when a bomb is exploded at a concert by Ariane Grande in Manchester Arena, Manchester, England, UK, Europe.