Random selection from around 1,000 Facts
Click to filter results
Racism
The Trocadero Quartette present "Their black-face character creation - The Telephone Agent" during a week at Chase's Theatre, Washington DC, USA. Also on the bill are The Hungarian Gypsy Band, "comedy trick violinist" Chevriel and "The Dainty Singing And Dancing Comedienne" Kitty Fox Allen.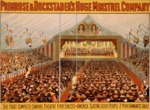 Primrose And
Dockstader
's Minstrels are appearing at Hammerstein's Victoria Theatre,
Broadway
, New York City, USA.
Character singer Lizzie B. Raymond, minstrel act Lew Hawkins, singing and dancing duo Lavender And Tomsom, novelty instrumentalists Mallory Bros And Brooks and banjo and Xylophone Virtuoso Musical Thor are among the performers at The Columbia Theatre, St. Louis, Missouri, USA.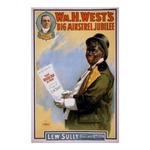 Blackface minstrel entertainer
Lew Sully
is appearing at The Orpheum Theatre, San Francisco, California, USA. Also on the bill is Mlle. Chester with her "$10,000 Statue Dog".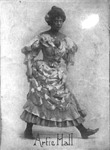 Eleanor Falk And Her Ten Sunbeams are heading the bill at Forest Park Highalnds, St. Louis, Missouri, USA. Also appearing are "coon shouter"
Artie Hall
, "musical mokes" Snyder And Buckley, and singer/dancer Ray Sullivan.
Read More
Williams And Walker
Company give a Command Performance of their hit African-American musical
In Dahomey
at Buckingham Palace, London, England, UK, in celebration of the Duke Of Windsor's eighth birthday. This is the first command performance at the Palace by a group of Negro theatrical entertainers.
The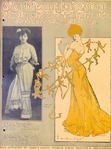 Sheet music for the song
Parthenia Johnsing
, described as "a new Negro melody" is given away in the music supplement of Hearst's Chicago American Newspaper in Chicago, Illinois, USA. The song is composed by Will Marion Cook, composer of In Dahomey, and is listed as being "sung by Abbie Mitchell".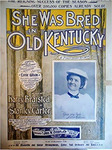 In Old Kentucky is presented at The Boston Theatre, Boston, Massachusetts, USA. The show features a "Pickaninny Brass Band" and is described as "The Frolic Of The Inimitable Pickanannies In Southern Songs And Plantation Dances".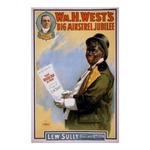 Delmore And Lee,
Lew Sully
, Hickey And Nelson, Jennie Yeamans, The Wartenberg Brothers and The Harmony Four are appearing in the 'brilliant polite vaudeville' show at Chase's Theatre, Washington DC, USA.
The Civil Rights Act of 1964
, a landmark piece of legislation in the United States outlawing major forms of discrimination against African Americans and women, including racial segregation, is passed into law in the USA.
Bruce Hornsby
's 1986 song
The Way It Is
ruminates on the fact that although, "They passed a law in '64, to give those who ain't got a little more", racism and discrimination have continued ever since.
Read More
The Byrds
embark on their tour of South Africa without singer and guitarist Gram Parsons, who refuses to set foot in a nation where apartheid is official policy. Parsons announces that he will form a new 'Southern soul group playing country and gospel oriented music with a steel guitar.' Thus
The Flying Burrito Brothers
are born.
Read More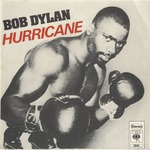 Rubin 'Hurricane' Carter
, subject of the 1975
Bob Dylan
song
Hurricane
, is finally freed from jail when the Federal District Court of Newark, New Jersey, USA, rules that his murder convictions were based on "racism rather than reason."
At Tiger Stadium, Detroit, Michigan, USA, in front of 50,000 people, Nelson Mandela celebrates his freedom by quoting lines from the song What's Going On by
Marvin Gaye
.
British national tabloid newspaper The Sun runs the headline "Ramadan A Ding Dong" after tv station Channel 4 broadcasts a controversial Muslim call to prayer. The headline is a reference to the 1961 hit single
Rama Lama Ding Dong
by
The Edsels
.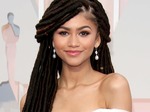 Zendaya, Queen Latifah and MC Lyte are among the performers attending the 2016 Essence Black Women in Music event at Avalon, Hollywood, Los Angeles, California, USA.
Stevie Wonder
and
India Arie
attend the Dinner For Equality co-hosted by Patricia Arquette and Marc Benioff in Beverly Hills, Los Angeles, California, USA.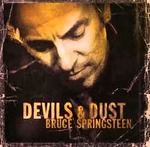 Bruce Springsteen
cancels a concert in Greensboro, North Carolina
, USA, because of a state law which has invalidated anti-discrimination measures that protected gay and transgender people. The law also requires people to use public toilets that correspond to the sex listed on their birth certificates.
Read More