Random selection from around 1,200 Facts
Click to filter results
Papparazzi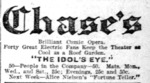 The "brilliant comic opera"
The Idol's Eye
is playing at Chase's Theatre, Washington DC, USA. According to the newspaper advert, 'Forty great electric fans keep the theatre as cool as a roof garden'.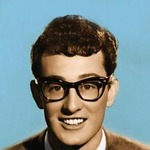 The Evening Journal newspaper in Lubbock, Texas, USA, announces the birth of "A daughter weighing eight and a half pounds at 6.10 o'clock Monday afternoon at Clark-Key Clinic to Mr. and Mrs. Lawrence O. Holley of 1913 Sixth Street." The baby, later to find fame fame as
Buddy Holly
, was in fact a son, born at 3.30pm at home, 1911 Sixth Street.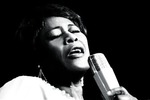 Ella Fitzgerald
's manager,
Norman Granz
, holds a press conference in Houston, Texas, USA, declaring that the previous night's arrest of
Ella Fitzgerald
,
Dizzy Gillespie
and
Illinois Jacquet
, on gambling charges was racially motivated, because local police did not want mixed audiences at concerts in the city.
The Ink Spots
appear on UK tv show Sunday Night At The London Palladium, but are criticised in the music press for relying entirely on old hits.
British popular music newspaper
Melody Maker
reports that American jazz and r'n'b bandleader and recording artist
Earl Bostic
has recovered from his recent heart attack.
UK popular music newspaper
Melody Maker
reports that American bandleader and recording artist
Earl Bostic
has recovered from his recent heart attack.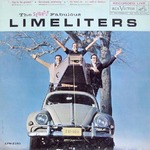 The
Limeliters
meet local radio deejays and trade press at a cocktail evening in
The Carousel
, Cincinnati, Ohio, USA.
The Harvard Crimson
of Cambridge, Massachusetts, USA, runs
a feature by Merry Maisel
, Folk Music Director of WHRB Radio, about the folk-music boom, complaining, among other things, that "folk music suffers from renaissance - the trios and quartets (which shall be nameless) begin turning out corrupt, oompah versions of perfectly good folk songs; no lover of folk musics enjoys hearing the
lush
, superfatted, slick results."
It is reported in
Billboard
magazine that Warner Bros. Pictures has recently abandoned its $85,000 infringement lawsuit against
Dot Records
and
Pat Boone
, which had alleged that Boone simulated the voice of
Speedy Gonzalez
- a Warner Bros copyrighted animated cartoon mouse - in his 1962 hit single
Speedy Gonzalez
. Warners also agreed to pay the costs of Boone and Dot incurred in the preparation of their legal defense.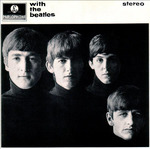 The Washington Post publishes
the first story in the USA
about the frenzy surrounding the rock group
The Beatles
in England, UK, Europe.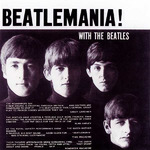 CBS-tv in the USA issues the following press release - "
The Beatles
, wildly popular quartet of English recording stars, will make their first trip to the United States Feb. 7 for their American television debut on The
Ed Sullivan
Show, Sunday, Feb. 9 and 16… The fantastic popularity of
The Beatles
in England has received considerable attention not only in British newspapers but also in the American press. Their first record release is scheduled for January."
Duke Ellington
's season at the Golden Key Club, 641 Euclid Ave, Cleveland, Ohio, USA, comes to an end. A local press report later says, "The
Duke Ellington
-Golden Key honeymoon came to an abrupt and not entirely amicable ending over money matters."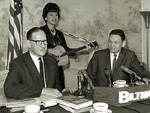 The career of conservative folk singer
Janet Greene
is launched with
a press conference at The Biltmore Hotel
, Los Angeles, California, USA. Green has been recruited by anti-communist physician Dr. Fred Schwartz to record right-wing folk songs as a kind of conservative counter-blast to the prevailing left-wing sentiments of most folk music of the era.
Read More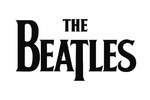 A full-page advertisement, part-funded by
Paul McCartney
of
The Beatles
, appears in The Times newspaper in London, UK, describing the existing marijuana law as "immoral in principle and unworkable in practice". The advert is signed by Francis Crick,
George Melly
, Jonathan Miller and
The Beatles
.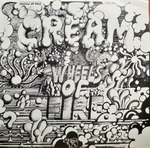 Rolling Stone magazine runs a feature which is heavily critical of UK power-trio Cream, describing
Eric Clapton
as "the master of the blues cliché" and, unwittingly, contributing to the demise of the band.
Read More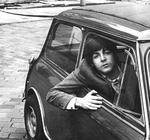 Paul McCartney
of
The Beatles
is interviewed in London, England, UK, Europe, by Alan Smith of weekly pop paper NME (New Musical Express).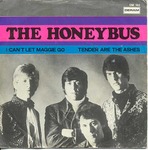 UK rock weekly the NME [
New Musical Express
] reports that songwriter-singer Pete Dello has left The
Honeybus
, and is being replaced by Jim Kelly.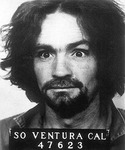 The San Francisco Examiner reveals that hippie cult leader and murderer Charles Manson is planning to pay for the costs of his trial by recording an album of his own songs.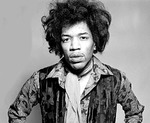 While being interviewed by John Burks of Rolling Stone magazine in New York City, USA,
Jimi Hendrix
states that The Experience is re-forming.
Read More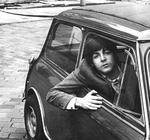 UK rock paper
Melody Maker
reports that
Paul McCartney
of
The Beatles
is working at home in St John's Wood, London, England, UK, Europe, on tracks for his first solo album.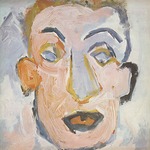 Rolling Stone
magazine reviewer
Greil Marcus
begins his review of the new
Bob Dylan
album
Self Portrait
with the words, "What is this shit?".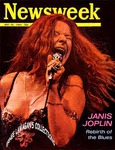 Rolling Stone magazine reports that several film companies are working on movies about deceased blues-rock singer
Janis Joplin
. The article also claims there is a documentary in the works and possibly even a
Broadway
musical.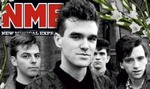 UK rock paper the NME reports that
The Smiths
are to split up. The band issues a denial.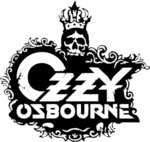 Ozzy Osbourne
is arrested and charged with threatening to kill his wife-manager,
Sharon
. On receiving his promise to stay away from her, she decides not to press charges.
Read More
It is reported in the UK press that Muslim community leaders are angered by
The Orb
's use of recordings of texts from The Koran during their live shows.
PaulMcCartney.com streams a thirty-minute-long press conference featuring
Paul McCartney
talking in London, UK, with press from around the world to promote the release of his new album of cover versions,
Kisses On The Bottom
.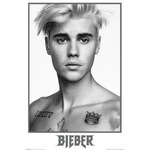 Photographer Jeffrey Binion files a
report with the Miami-Dade Police
, claiming that
Justin Bieber
's bodyguards attacked him while he tried to take pics of the young star outside the Hit Factory recording studio in Miami, Florida, USA.