Random selection from around 6,200 Facts
Click to filter results
Comedy
Vocalists Banks And Winona Winter, Novelty Musical Artists The Perching Brothers and comic vocalists The Clipper Quartette are among the entertainments on offer at The Orpheum Theatre, San Francisco, California, USA.
The Picchiani Sisters, Wormwood's Monkeys, J.C.Nugent And Grace Fertig, Lawrence And Harrington, Frank LeMondue, George Yeoman, The Elinore Sisters, Billy S. Clifford, The Neilsen Sisters, Esmathilde and others are appearing at The Columbia Theatre, St. Louis, Missouri, USA.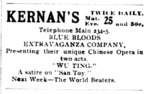 The Blue Bloods Extravaganza Company presents Wu Ting, a satire on the popular musical show San Toy, at Kernan's Theatre, Washington DC, USA.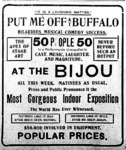 Put Me Off At Buffalo
, billed as a "hilarious musical comedy success", is playing at The Bijou Theatre, Richmond, Virginia, USA.
Musical comedy
The Show Girl
plays at Wallack's Theatre,
Broadway
, New York City, USA, during a run of 64 performances.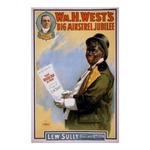 Blackface minstrel entertainer
Lew Sully
is appearing at The Orpheum Theatre, Los Angeles, California, USA. Also on the bill is Mlle. Chester with her "$10,000 Statue Dog".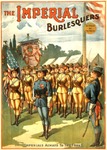 The Imperial Burlesquers are playing at The Star Theatre, Scranton, Pennsylvania, USA.
In Dahomey
opens at The New York Theater,
Broadway
, New York City, USA. This ground-breaking production was described by theatre historian Gerald Bordman as "the first full-length musical written and played by blacks to be performed at a major
Broadway
house."
The Williams And Walker Company's musical comedy
Read More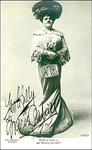 Actress and singer
Marie Cahill
is starring in Nancy Brown at The Bijou Theatre on
Broadway
, New York City, USA.
The musical comedy
Sweet Adeline
, with music by
Jerome Kern
, is playing at Hammerstein's Theatre,
Broadway
, New York City, USA, during a run of 234 performances.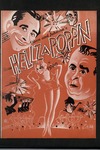 The musical comedy
Hellzapoppin'
, starring
Olsen and Johnson
is performed at The 46th Street Theatre,
Broadway
, New York City, USA, during a total run of 1404 performances at three different theatres.
Larry Wayne Fischer is born in Los Angeles, California, USA. Despite suffering from paranoid schizophrenia and bipolar disorder (not to mention attacking his mother with a knife), he will find international cult celebrity status under the name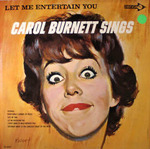 Carol Burnett
stars in the CBS-tv special An Evening With Carol Burnett on tv in the USA.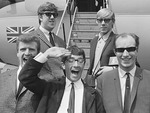 Freddie And The Dreamers
release a new album, Ready Freddie Go, in Canada on
Capitol Records
.
Sex Pistols
turn up and manage to blag their way onto the bill as his support act. On this night, The Pistols are seen by Howard Devoto and Pete Shelley who have driven down from Manchester to see them. Devoto and Shelley will, in due course, become founders of
The Buzzcocks
.
When Screaming Lord Sutch plays at The College Of Arts, High Wycombe, England, UK, Europe, The
Read More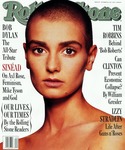 Sinead O'Connor
refuses to appear on tv show
Saturday Night Live
in the USA because controversial comedian
Andrew 'Dice' Clay
is also on the show.