Random selection from around 8,100 Facts
Click to filter results
Birth
Robert Timothy Wilkins is born in Hernando, Mississippi, USA. He will achieve success as blues guitarist, vocalist and recording artist
Robert Wilkins
, also known as The Rev Tim Wilkins, Timothy Wilkins or Tim Oliver. Wilkins will also be active in the jug band scene.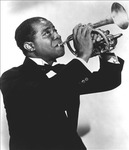 Daniel
Louis Armstrong
is born in New Orleans, Louisiana, USA. He will find worldwide fame as jazz
cornettist
and singer
Louis Armstrong
, aka Satchmo.
US r'n'b vocalist Ernistine Allen, is born in Champaign, Illinois, USA. She will sing on such early 50s Lucky Millinder Band US hits as I'll Never Be Free and I'm Waiting Just For You. As a solo artist she will make the R'n'B Top Ten in 1953 with Baby, I'm Doin' It.
Blues guitarist and singer
Eddie Cusic
is born in the Wilmot community, south of Leland, Mississippi, USA.
Willie Mae Thornton is born in Montgomery, Alabama. She will find fame as blues vocalist
Big Mama Thornton
, and her influence will continue into the birth of rock'n'roll.
Hit-making vocalist
Helen Shapiro
is born in Bethnal Green, London, UK.
Bernard Ouillon is born in St. Etienne, Franc, Europe. He will find fame in the 70s as socially-committed singer and songwriter Bernard Lavilliers.
Arthur Leon Barge is born in Norfolk, Virginia, USA. He will enjoy a long and varied career as bandleader, singer and multi-instrumentalist
Tiny Barge
.
Singer and songwriter
Joan Armatrading
is born in Basseterre, St Kitts, West Indies.
Steve Prestwich
, who will find international fame as the drummer of Australian band Cold Chisel, is born in Liverpool, UK.
Blues/r'n'b guitarist and recording artist
Mike Morgan
is born in Dallas, Texas, USA.
Dave Rotheray, best-known as guitarist for The Beautiful South, is born in Hull, UK.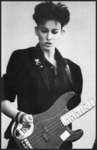 Cait O'Riordan
of Irish folk-punk band
The Pogues
is born in Nigeria, Africa.
Matt Schofield
is born in Manchester, UK. He will find acclaim as one of the UK's finest 21st century bluesmen.