Random selection from around 4,200 Facts
Click to filter results
Radio
Leonore Vonderlieth is born in Mount Pulaski, Illinois, USA. She will find fame as popular singer
Vaughn De Leath
, often known as 'The Original Radio Girl' and 'The First Lady of Radio.'
The first live radio broadcast in the USA of a singer features Eugenia H. Farrar, marking the departure of Admiral Robley Dunglison Evans on a cruise with the fleet. Farrar's voice is transmitted by Lee De Forest from Brooklyn Naval Yard, Brooklyn, New York.
Recorded music pioneer
Victor H. Emerson
dies of a heart attack in California, USA. In his lifetime Emerson was awarded at least fourteen US patents relating to sound recording and reproduction.
Popular singer
Jan Peerce
sings You're Precious To Me and other songs on radio show The Chevrolet Hour in the USA.
In court in New Philadelphia, Ohio, USA, a disc recording made by a woman dying after having been badly beaten, is permitted by the judge as evidence. The jury hears the woman, in short feeble gasps, accusing her husband of having administered the beating which led to her death.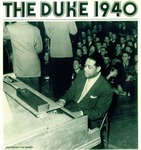 Duke Ellington
And His Orchestra play in the
Panther Room at the Hotel Sherman
, Chicago, Illinois, USA. The show is broadcast live on radio.
Perry Como
and
Tex Beneke
And His Orchestra play as part of an
AFRS
[The Armed Forces Radio Service], radio show, On The Beam, in the USA.
Tex Beneke
And His Orchestra play on the
AFRS
[The Armed Forces Radio Service] radio show On The Beam in the USA.
Nat King Cole
, with
The Alyce King Volkettes
on vocals, records Tunnel Of Love and The Way I'm Loving You, in New York City, USA. At the same session, with his wife
Maria Cole
on vocals, he records Get Out And Get Under The Moon, Hey, Not Now! [I'll Tell You When] and It's a Man Every Time.
Dann Glenn
is born in Denver, Colorado, USA. He will carve out an acclaimed career as a jazz fusion electric bass guitar virtuoso and composer, who will publish and record a catalog of six symphonies, as well as releasing numerous jazz and avant garde albums.
Ronald Frankau
, a saucy comedian and recording artist who started in cabaret and made his way into radio and films, dies at Eastbourne, Sussex, UK.
George 'Hound Dog' Lorenz
, one of the first radio deejays to play r'n'b and rock'n'roll records, resigns from WKBW in Buffalo, New York State, USA, because it has changed to a Top 40 format. Lorenz is quoted in music trade magazine
Billboard
, declaring that the repetitiveness of the Top 40 format, "is hurting the record industry, is lowering radio listening, and is decreasing a new artist's chance to make it."
Paul Anka
, Pieces Of Eight, Boots Randolph and Booker T And The MG's. Entrepreneur
Dick Clark
is the event's keynote speaker.
The Sixth Annual Block Booking Conference opens at The White Horse Inn, Charlotte, North Carolina, USA. The event lasts for four days and features live entertainment from
Hal Lewis
) on KGMB radio is reported to have signed a 12-year contract at an annual salary of $400,000.
The top-rated DJ in Honolulu, Hawaii, USA, Aku (real name
Phil Kaufman
, road manager to country rock star
Gram Parsons
, is fined $300 for having stolen a coffin containing Parsons' corpse from LAX Airport, Los Angeles, California, USA. After stealing the body, aided by his friend Michael D. Martin, Kaufman had driven the body out to the Joshua Tree National Monument in the Navajo Desert and set fire to the corpse.
The film
The Jazz Singer
, starring
Neil Diamond
as a young Jewish cantor with a secret life as a jazz singer, goes on general release to cinemas in the United Kingdom. The film is a re-make of an
Al Jolson
movie, originally released in 1927.