Random selection from around 1,600 Facts
Click to filter results
Politics
Artie Shaw
and his Orchestra play at the Mayor Of Bronzeville Ball, in the Savoy Theatre, Chicago, Illinois.
US Motor Torpedo Boat
PT-109
is cut in half in a collision with the Japanese destroyer Amagiri, off Kolombangara, Solomon Islands, East of Papua, New Guinea,
Oceania
. The commander of the PT-109, John Fitzgerald Kennedy, will be awarded the Navy and Marine Corps Medal for his bravery in this action. Kennedy is also awarded the Purple Heart for injuries he sustained in the collision. He will, in due course, become the President of the United States Of America. The tale of PT-109 will inspire the 1961 country song PT-109 by
Jimmy Dean
, which will reach No8 on the
Billboard
pop music chart in the USA, and No3 on the country music chart.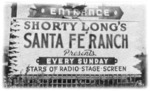 Country music singer and fiddle player
Shorty Long
records No Wars In Heaven, Don't Tell Mommy, Blinding Tears and Mama for
Syd Nathan's King Records
in Cincinnati, Ohio, USA.
Bandleader
Karl King
is honoured with a surprise testimonial dinner held in the Savory Hotel, Des Moines, Iowa, USA, with congressman James Dolliver presiding. Two hundred and fifty guests attend, including Paul Yoder, Glenn Cliff Bainum, and A.A. Harding. Governor William Beardsley presents a plaque declaring King to be the foremost composer of band music and an inspiration to millions of young musicians.
When
Bob Dylan
attends a Civil Rights Voters' registration rally on Silas McGee's farm in Greenwood, Mississippi, USA, he performs a previously unheard song,
Only A Pawn In Their Game
.
Pete Seeger
and Theodore Bikel also perform at this event.
The City Council of Daly City, California, USA, establishes an architecture committee because, says Mayor Michael DeBernardi, "We don't want the area to develop into a series of boxes." The move is seens by many as a response to the comments made in Malvina Reynolds' popular folk song Little Boxes, which was inspired by the songwriter driving through Daly City and being upset by the suburban domestic architecture.
The Four Seasons
are invited by President Lyndon B. Johnson to perform at The Democratic Party National Convention in the USA.
Country Joe McDonald (without his Fish) plays the first of two nights at the Crystal Ballroom, Portland, Oregon, USA.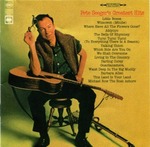 Pete Seeger
plays at
Carnegie Hall
, New York City, USA.
Love, Congress of Wonders, and Sons of Champlin play the second of three nights at the
Avalon Ballroom
, San Francisco, California, USA.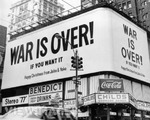 John Lennon
(of
The Beatles
] and Yoko Ono pay for Billboards to go up in eleven cities around the world, declaring, "War Is Over! If You Want It!"
Bob Dylan
is in Columbia Recording Studio E, New York City, USA, working on a new version of
Blowin' In the Wind
.
Ghetto Child
by The Detroit Spinners enters the UK Popular Singles Chart, where it will peak at No7 during a ten-week run on the chart. The musical feel and structure of this song will inspire
Elvis Costello
to write his second single,
Alison
, in 1977.
Read More
The song
Born to Run
by
Bruce Springsteen
is named as the "Unofficial Youth Rock Anthem" of New Jersey, USA, by the New Jersey State Assembly. Springsteen found this accolade somewhat ironic because the song was "about leaving Jersey."
Jello Biafra
of anarcho-punk-rock band
The Dead Kennedys
suffers defeat in the attempt to be elected as Mayor Of San Francisco, California, USA. Dianne Feinstein, chair of San Francisco's Board of Supervisors gets 46.63% of the vote, while Senator Quentin Kopp gets 44.72%.
Doc Dart
, anarchist punk rock vocalist with
The Crucifucks
, finishes last of three candidates in the city primary election for mayor of Lansing, Michigan, USA. Dart manages to secure 5% of the vote.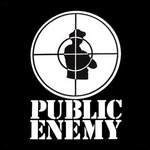 Public Enemy
, Queen Latifah and
Biz Markie
play at
Syria Mosque
, Pittsburgh, Pennsylvania, USA.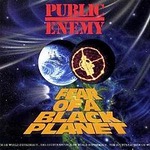 The Sizzling Summer Tour '90, featuring
Public Enemy
, The Afros, Queen Latifah, Kid 'N Play, Digital Underground and Big Daddy Kane, comes to an end
at The Sports Arena
, San Diego, California, USA.
B.B. King
plays Merry Christmas Baby for an audience including Pope John Paul II and sundry assembled cardinals during a concert at The Vatican, Rome, Italy, Europe. Before the show
King was granted an audience with The Pope
, during which he gave one of his treasured 'Lucille' guitars to the pontiff.
US radio network Clear Channel Communications fires controversial hip-hop journalist Davey D from his post as Community Affairs Director at KMEL/San Francisco. The move is widely interpreted as an attempt to silence any voice which airs views at odds with the official US government stance on the World Trade Center attack.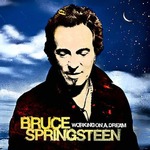 R.E.M.,
Bruce Springsteen
,
John Fogerty
and
Bright Eyes
play a concert in support of US Presidential candidate John Kerry at The Wachovia Center, Philadelphia, Pennsylvania, USA.
Read More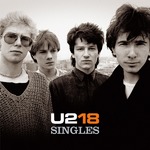 U2
frontman Bono holds discussions in Brussels, Belgium, Europe, with European Commission leader Jose Manuel Barroso and other world leaders, asking
them
to support Africa and the momentum gained by the Live8 concerts. "Put down your national flags," he tells them. "Look up from the numbers and look to the future. People are dying for the most stupid reasons."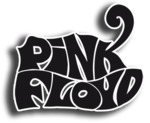 It is announced that
Pink Floyd
is to re-unite to play at the upcoming London Live8 concert.
Read More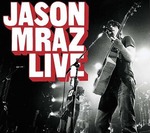 Jason Mraz
plays at The Congress Theatre, Chicago, Illinois, USA.
Robyn
and
Barry Manilow
are among the artists performing at the Nobel Peace Prize concert in Oslo, Norway, Europe.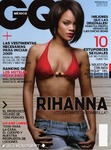 Rihanna
is named by The Barbados Tourism Authority as
the new official international ambassador
for her home country of Barbados, Caribbean.
Former US President Bill Clinton joins the band Chicago on stage in Little Rock, Arkansas, USA, on the 20th Anniversary of his 1991 presidential bid announcement.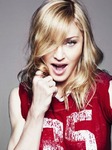 Madonna
announces plans to
build ten new schools in Malawi
, Africa, in a joint project involving her Raising Malawi charity and the non-profit group buildOn.
In a letter published in The Times
,
Jarvis Cocker
of
Pulp
, Neil Tennant of
Pet Shop Boys
,
Pete Townshend
of
The Who
and other British music stars call for the release of the three members of Russian band
Pussy Riot
who have been in jail since March for staging a
protest gig against Russian Prime Minister Vladimir Putin
in Christ The Savior Cathedral, Moscow, Russia, Europe. The letter is timed to coincide with a visit to London by Putin.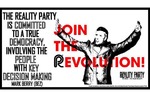 Bez, real name Mark Berry, best known as the dancer with the band
Happy Mondays
, launches
a bid to become a Member Of Parliament
, on behalf of the newly formed Reality Party.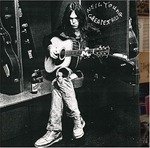 Neil Young
calls for a
boycott of the Starbucks coffee shop chain
, because it has teamed with biotechnology company Monsanto to sue the state of Vermont for trying to introduce mandatory labelling of genetically-modified ingredients in foodstuffs.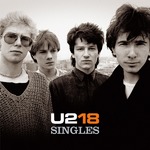 When
U2
begin the European leg of their Innocence And Experience world tour in Pala Alpitour, Turin, Italy, Europe, singer Bono changes the lyrics of their song Pride (In The Name Of Love) to "One boy washed up on an empty beach",
a reference to Syrian toddler Aylan Kurdi whose
body was washed up on a Turkish beach earlier in the week.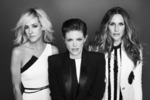 The
Dixie Chicks
play at The Toyota Amphitheater, Sacramento, California, USA.