Random selection from around 4,600 Facts
Click to filter results
Movie
Shirley Jones
is born in Charleroi, Pennsylvania, USA. She will find success as the star of 50s film musicals including Oklahoma! and Carousel, and then return to prominence in the 70s as a member of The
Partridge Family
, a manufactured pop group promoted via its own tv series.
Artie Shaw
And His Gramercy Five record My Blue Heaven, Dr. Livingstone I Presume?, When The Quail Come Back To San Quentin and Smoke Gets In Your Eyes for RCA Records in Hollywood, Los Angeles, California, USA.
Billie Holiday
opens for four weeks at Joe Tenner's Cafe Society Uptown, in San Francisco, California, USA. On the same day, assault charges against her, relating to an incident In Billy Berg's Club in Hollywood, California, USA, are dropped.
Frank Sinatra
, with an orchestra conducted by Joseph Gershenson, records All Of Me, How Deep Is The Ocean, She's Funny That Way, That Old Black Magic, When You're Smiling and You're A Sweetheart, at Universal City, Los Angeles, California, USA. The songs are intended for the soundtrack to the movie Meet Danny Wilson.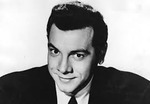 Mario Lanza
records With A Song In My Heart and Mattinata at
Radio recorders
Studio, Hollywood, Los Angeles, California, USA. The tracks will be used on his radio series The
Mario Lanza
Show.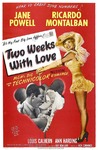 The romantic MGM movie musical
Two Weeks With Love
, starring Jane Powell and Ricardo Montalban, is released in France, Europe.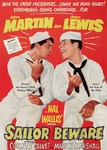 The movie comedy musical
Sailor Beware
, starring
Dean Martin
and Jerry Lewis, is released to cinemas in Japan, Asia.
Elvis Presley
continues with filming of studio scenes for his eighteenth film,
Tickle Me
, at Allied Artists studios, Hollywood, Los Angeles, California, USA.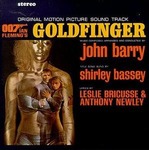 The
John Barry
-composed soundtrack album to the James Bond film
Goldfinger
, reaches No1 in the
Billboard
albums chart in the USA, for the first of three-weeks.
Elvis Presley
continues with a month and a half of filming his 24th movie, Double Trouble, at MGM Studios, Hollywood, Los Angeles, California, USA.
Tim Buckley
and Mary McCaslin play the third of thirteen nights at Doug Weston's Troubadour, Hollywood, Los Angeles, California, USA.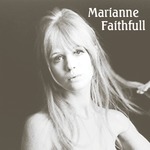 Having recently collapsed from a drug overdose in her hotel,
Marianne Faithfull
is in the intensive care unit of
St. Vincent
's Hospital, Sydney, Australia,
Oceania
, in a coma. She and
Mick Jagger
of The
Rolling Stones
are in Australia filming the movie Ned Kelly.
Read More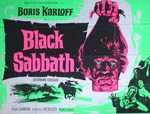 Black Sabbath
plays its first ever gig under that name, at The Winter Garden, Malvern, UK. Formerly a jazz-blues combo called Earth, they have taken their new name from a Boris Karloff horror movie.
Read More
Under the banner of
Hear 'N Aid
, a heavy metal supergroup of around forty musicians, led by Ronnie James Dio, spend the first of two days recording the charity fund-raising single Stars at A And M Studios, Hollywood, Los Angeles, California, USA. The record is intended to raise funds for starving children in Africa, and features contributions from
Ted Nugent
, Yngwie Malmsteen, Tommy Aldridge and members of Dio,
Judas Priest
,
Iron Maiden
, Quiet Riot, Dokken, Motley Cr
Weezer
film a video for their upcoming single,
Beverley Hills
, at Hugh Hefner's Playboy Mansion in Los Angeles, California, USA.
Rapper
Lil Wayne
attends the re-opening of Harrel Park, a New Orleans, Louisiana, basketball court whose renovation he helped to fund after it was destroyed by Hurricane Katrina. Wayne has often said he grew up playing at the park and wanted to help kids from his old neighborhood.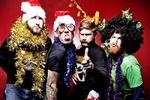 Mastodon, Josh Homme and his wife Brody Dalle attend the premiere of Jonah Hex at The Arclight, Los Angeles, California, USA.